Photo Gallery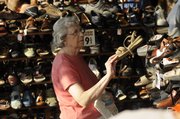 Scenes from the Lawrence Sidewalk Sale
Final $40 challenge tally
What we bought:
Crew T-shirt, Urban Outfitters: $3.99
90-hour glass and wax candle, Urban Outfitters: $2.99
Energizing sea salt soak (grapefruit and neroli scent), Bloom, $5
Imported Chamomile tea, Brits: $2.75
Le Creuset tea pot, The Bayleaf: $10 (originally $59.95)
Blown glass stem vase, Palace Cards & Gifts: $3.97
DVD of "Lars and the Real Girl," Liberty Hall: $5
Bracelet, Claire's Boutique, 647 Mass.: $3.25
Running total with tax: $39.29
Our 3:49 p.m. update
Keeping shoppers cool, fighting cancer: Girl Scout troop 7547 knows how to help keep Sidewalk Sale shoppers happy and help others at the same time. The girls set up shop in front of Teller's, 746 Mass., to sell lemonade to benefit Alex's Lemonade Stand, a foundation setup to fight childhood cancer. Lemonade was going for 25 cents for a small cup and $1 per large cup with 100 percent of the donations going to the charity. The girls were also selling brownies for 50 cents to benefit the Humane Society.
Off the beaten path: Stores not on Massachusetts Street were doing what they could to cash in on the Sidewalk Sale frenzy.
Lisa Stockton and Heidi Raak, co-owners of the Raven Bookstore, 6 E. 7th St., had a duel strategy going. First, they continued a long-standing deal the previous owners had with Liberty Hall, 644 Mass., to set up shop in front of the venue's long storefront on the main drag.
"Liberty Hall is really cool about letting us be in front of their space," Stockton said.
There they sold bargain paperbacks to eager customers.
Secondly, they added an in-store discount of 12 percent off everything on the shelves and also set up a $1 book cart out front.
"People did come in because of it," said Raak of the 12 percent sale.
Across the street at African Adorned, 5 E. 7th St., owner Alia Sachedina treated customers to a sale of 25 percent off everything without the early-bird craziness.
"A lot of our clients are repeat customers - we're on a side street but people come," she said. "We keep regular hours, so people know to come at 10 a.m."
Down at Sunfire Ceramics, 1002 N.H., employee Samantha Snyder said there had been an uptick of customers inside the shop.
"It's so hard to get people over to this block," she said. "It's been nice to get people browsing."
Deals and steals before 2 p.m.:
Beyond the Door, 918 Mass.: Cotton shirts and tanks, plain and printed, $1.
Sports Dome, 1000 Mass.: Orange Bowl T-shirts, 4 for $20; Final Four and national championship T-shirts, two for $20.
Liberty Hall, 644 Mass.: Select DVDs, $2 and $5.
Under $40 challenge
What we've bought so far:
Crew T-shirt, Urban Outfitters: $3.99
90-hour glass and wax candle, Urban Outfitters: $2.99
Energizing sea salt soak (grapefruit and neroli scent), Bloom, $5
Imported Chamomile tea, Brits: $2.75
Le Creuset tea pot, The Bayleaf: $10 (originally $59.95)
Blown glass stem vase, Palace Cards & Gifts: $3.97
DVD of "Lars and the Real Girl," Liberty Hall: $5
Running total with tax: $35.80
Police ticket cars that overstay two-hour limit in free lots
Our 2:28 p.m. update
Parking scarce downtown
A tour of free parking lots downtown shows that parking spots are a hot commodity.
It might be worth it to park on a residential side street and walk a little bit, or take advantage of free rides on the T.
Here's a quick rundown:
Vermont Street, south of Ninth: Very full
Vermont Street, north of Ninth: Very full. Police were seen ticketing cars that exceeded the two hour limit
New Hampshire Street, south of Seventh: Very full.
Vermont Street, south of 10th: Very full.
New Hampshire Street, north of 10th: Very full.
Also, the free parking garage on New Hampshire, south of Ninth Street is pretty packed, but given the high number of spaces, that might be a good bet for people looking for parking.
Jayhawk gear flying
No surprise here. Kansas University apparel is a popular buy.
"Any Orange Bowl stuff or basketball championship (apparel is popular), just because it's been so recent," said Tonyell Ray, an employee at Jayhawk Spirit, 935 Mass.
Ryan Owens, a manager at Jock's Nitch Sporting Goods, 837 Mass., said discounted national championship T-shirts and hooded sweatshirts priced at $20 are flying off the shelves.
"When people see a bargain, they'll purchase something like that," Owens said.
Owens, who has been busy preparing for a book signing by Mario Chalmers tomorrow, said people have been asking for shirts marketed by JoeCollege.com, which recently butted heads with KU in a lawsuit over trademarks. Though he didn't think anyone had asked for shirts that say "Hawk Football" or "Our Coach Can Eat Your Coach" today, he said it had happened frequently in the past.
Even stores not traditionally known for selling Jayhawk clothing were getting in on the game.
"Anything that says Jayhawk is going to sell well," said Lynda Allen, an employee at Frameworks, 819 Mass.
Numbers up? Down?
One thing is for sure. Downtown is packed.
What's not clear yet is whether or not this year's crowd surpasses those of years past.
We heard some differing opinions from retailers.
"I think the crowds are better this year than they have been in the last two, three years," said Earl Reineman, vice president of Weaver's Department Store, 901 Mass. Crowds at Weaver's wrapped around the corner of Mass and Ninth streets, and many people shopped inside, as well.
Reineman could not say if sales backed up his statement, but he's been doing this for 20 years.
"Just a gut feeling," he said.
Jeanne Knowls is working at Jewelry by Julie, 19 W. Ninth St. She said the crowds have been steady, despite not being located on the main drag.
"Being on a side street, it's not as busy as it is on Mass. St., but we've still had some sales," she said. "It looks just as busy to me (as it has in other years)."
Ryan Owens, a manager at Jock's Nitch, said this year has compared favorably to last year, though sales had tapered off in the early part of the afternoon.
But Deanna Ricketts, owner of BoMo, 725 Mass., said, "It does seem a little bit slower. One year I was down here and you just couldn't move."
But it's clear, regardless of the exact number of shoppers, today is a good day for downtown business.
Sometimes you just need to get up high to find some perspective
Our 1:06 p.m. update
Wade Beazey is on top of the world ... or at least above the people shopping downtown.
He's the guy talking through the bullhorn at Sunflower Outdoor and Bike Shop at 8th and Massachusetts.
The idea of getting someone six feet above ground started after the store's major fire in 1997. They had a big sale in North Lawrence at the warehouse and the chaos caused a need for someone to direct traffic from a high vantage point.
"We just haphazardly had to get somebody off the ground so they could help people move around and keep kids from getting trampled," Beazey said, via loudspeaker. "That's when this job opened up and I've had it ever since."
Beazey has quite the view of the sidewalk sale.
"I've seen some pushing and pulling," he said. "Some people get lost and I've helped people get reunited."
But the best part of the job? He's from Salida, Colo., so he is impossible to embarrass.
Salida is a one-stoplight town, he said, and he comes to Lawrence to work for Sunflower owner Dan Hughes once a year.
"This is my trip to the big city!" he said.
Our 12:28 p.m. update
Worth the extra hour: With the sidewalk sale, it seems early is never early enough. So when the folks at the Buckle, 805 Mass., found out other businesses, including Sunflower Outdoor & Bike across the street at 802 Mass., were opening at 5 a.m., they figured it couldn't hurt if the store opened an hour earlier than before.
"We called around to other stores and found out they were opening early and so we decided to," manager Lilly Nicolen said. "We opened at 6 a.m. last year."
The Buckle advertised the early-bird opening and it paid off, says Nicolen.
"When we got here at 5, people were waiting for us to open," she said.
Balancing shopping and work: When Toni Dudley started her most recent job 14 years ago she only had two requests: two weeks of vacation and the morning of the Sidewalk Sale off work.
Thursday morning she was making the most of her own wheeling and dealing getting steals left and right from local stores. By 9 a.m., after a little over two hours of shopping, she had consolidated her finds from several stores into four big bags. Dropping them off at her car, she was ready to go back out and fill up with all she could carry once again.
"I try to go places that are normally pricey," she said of her strategy. "Everything I didn't know I needed. Totally gratuitous."
Among her finds were a cute Christmas-themed jack-and-the-box and stocking stuffers for her grandkids, little books on wine and other trinkets for girlfriends and a nice black sport jacket from Chico's for herself - at $50 less than its original price.
"But it's fun," she said of the atmosphere she enjoys while shopping. "You just see everyone in the world."
Deals and steals before noon:
The Raven, 6 E. 7th St.: 12 percent off everything in the store
Au Marche, 931 Mass.: 75 percent off select French items including food, postcards and soaps.
Prairie Patches, 821 Mass.: $1 table with items including plates and pins; $5 table with cell phone holders, picture frames and hats including one that says "World's Best Dad."
Buckle, 805 Mass.: Up to 50 percent off clothing.
Under $40 challenge:
What we've bought so far:
Crew T-shirt, Urban Outfitters: $3.99
90-hour glass and wax candle, Urban Outfitters: $2.99
Energizing sea salt soak (grapefruit and neroli scent), Bloom, $5
Imported Chamomile tea, Brits: $2.75
Le Creuset tea pot, The Bayleaf: $10 (originally $59.95)
Blown glass stem vase, Palace Cards & Gifts: $3.97
Running total with tax: $30.80
Cross-town rivalry on display
Our 9:53 update
Lions and Firebirds
Booster clubs for both Lawrence High and Free State High are selling T-shirts, sweatpants, stickers and more to raise money for the school's booster clubs.
Free State's table is located just south of Seventh and Mass, while LHS is set up outside next to Wink Eyewear, 806 Mass.
From the Beatles to Johnny Bench
One of the most eclectic destinations at the Sidewalk Sale is the Lawrence Antique Mall, 830 Mass.
There shoppers can find anything from an LP of Neil Sedaka's Greatest Hits to a samurai sword set.
Joe Van Aucken is presiding over a collection of baseball cards, ranging from the mundane (a Ruben Sierra All-Star card) to lucky finds like an Eddie Matthews card from the 1960s.
Van Aucken has been collecting cards like these for 30 years, and his favorites are kept in binders to ensure the cards stay in mint condition. There are pages and pages of various George Brett cards, and many of Royals players who played on the 1985 championship team. Most of the cards he sells are going for $2.
It's striking to flip through a binder of cards and come across names like Mantle, Bench and Yastrzemski, though many of the cards are replicas issued by K-Mart in the 1980s.
Other treasures from Van Aucken's collection are cards made by Topps in 1964, featuring none of than John, George, Paul and Ringo. The cards were released shortly after the Beatles' initiated the British Invasion, and are selling for $2.
It seems like those items would be more expensive.
"It depends," Van Aucken said. "It's like anything on the Internet," which is worth whatever a buyer is willing to pay.
Walking the line
Outside U.S. Bank, at Ninth and Massachusetts, a group of teens giggled as two teenagers staggered across the sidewalk.
There has been no underage drinking reported at the Sidewalk Sale. Rather, the kids were wearing Fatal Vision goggles, otherwise known as beer goggles.
The eye wear mimics alcohol impairment, blurring vision and causing users to lose their sense of balance. It really does make you feel like you've thrown back a few too many. Your eyes can't focus; your head is swimming and you stumble forward, swaying back and forth.
"It's raising awareness," said John Drees, of Safe Kids Douglas County, which is manning a booth with the Kansas Traffic Safety Resource Office, part of the Kansas Department of Transportation.
"Sometimes we have to be creative in the ways we get the message across."
Drees is also selling booster seats for a $5 donation, as well as giving away free water.
Safety on the road -- whether it's staying sober or buckling up -- is paramount, he said.
"It's like climbing a mountain. We're not going to fix it overnight," he said. "We need to make sure the teenagers aren't out there texting and using the cell phone, or being impaired" behind the wheel.
Deals, deals, deals
Our 8:58 a.m. update
Just after sun up, the lines at Urban Outfitters, 1013 Mass., stretched down the sidewalk, snaking through racks and tables full of steals. Tiffany Francis was grabbing whatever she could in her daughter's size.
"We missed it last year. I have a daughter at camp and she's mad she's missing it," she said, adding an armful of clothes to a pile already spilling out of a cardboard box and toppling onto the street, all under the watchful eye of store merchandiser Molly Geiger. Geiger was making sure no one snagged the clothing Francis was collecting to show her husband, KU soccer coach Mark Francis, as possible purchases.
"My husband hates to shop, but he was out here by 5:30, I haven't even seen him yet," Francis said.
Doing top dollar business: Just after 6:30 a.m., Geiger said Urban Outfitters was doing about three times as good as it did last year during the sidewalk sale. She said that though it's a corporately owned company, the big guys at headquarters make exceptions for the sidewalk sale.
"We basically got freedom to price things how we want," she said.
Hence deals like a $34 felt fedora for $1.99 and 99-cent beer glasses.
Waiting, and waiting: In line for 30 minutes outdoors at Urban Outfitters, friends Young Mi and Monique Smith waited and waited to pay cash for a total of six acrylic cups -- two for Mi and four for Smith. Just as they made it to the head of the line, the power to the outdoor registers blew.
Another 10 minutes and the shoppers finally got their cups, both spending less than $5.
"I didn't think there were going to be this many people here," said first-timer Mi.
Deals and steals before 7 a.m.:
Palace Cards & Gifts, 8 W. 8th St.: Cute ceramic pet bowls from $6.97.
Sunflower Outdoor & Bike Shop, 802 Mass.: Sweaters, $20; other tops,
$10; outerwear, $50; kayaks from $400.
Gap, 643 Mass.: Men's flip-flops as low as $3.97; boxers, $2.99;
socks, $1.99; women's flip-flops as low as $4.97.
Bloom Bath & Body, 704 Mass.: Premium cut soaps, two for $3.
Francis Sporting Goods, 731 Mass.: Logo shirts, $5; track spikes and
other shoes as low as $20; baseball pants, $10.
Maurice's, 739 Mass.: 50 percent off already marked down clothes;
E.g.: a dressy black skirt, suitable for work, $7.50
Arensberg's Shoes, 825 Mass.: shoes as low as $10
Jock's Nitch Sporting Goods, 837 Mass.: Kansas University logo tees from $7.99.
Weaver's, 901 Mass.: Shirts from knits to synthetics from $9.99; Pants and blouses marked 75 percent down.
Kieu's Inc., 738 Mass.: Shirts from $2.99
Joe-College.com, 734 Mass.: Two shirts for $20. New arrivals include the lawsuit-themed shirt "Joe-College.com spend $127,000 and all I got was this T-Shirt."
Henning is out with $40, trying to see how far she can stretch it. She'll update her progress here throughout the day.
What we've bought so far:
Crew T-shirt, Urban Outfitters: $3.99
90-hour glass and wax candle, Urban Outfitters: $2.99
Energizing sea salt soak (grapefruit and neroli scent), Bloom, $5
Running total with tax: $12.86
Downtown merchants expect big day
Our 6:57 a.m. update
The sun has just risen, and downtown is already bustling with shoppers scoping out the best deals.
They got to downtown early, said Aaron Quint, 21, an employee at clothing store Buckle. He said people were waiting in their cars for the store to open at 5 a.m.
Jay Amyx was setting up shop at the Downtown Barber Shop, shortly before 6 a.m.
Everything's half off, he jokes.
"Which half do you want off?" goes the old barber joke.
"We're getting an early start on the day. It's tough to beat the shoppers. They start coming earlier and earlier. Soon we'll have to start this on Wednesday," he said. Amyx was in good humor for such an early morning, but said there would be no sidewalk haircuts.
"It's going to be 100 degrees today. We're about five steps from air conditioning," he said. Maybe he'll reconsider: Today's high is supposed to be 92 degrees.
Parking is tight between Seventh and Ninth streets, with more spots available south of 10th street. Huge crowds teemed outside several stores, all of which, coincidentally, sell shoes. Sunflower Outdoor & Bike Shop, Arensberg's, Brown's Shoe Factory and Francis Sporting Goods all appear to be popular morning destinations.
About 70 percent of Mass Street stores are open at this point. Many have sales going on indoors, as well.
We're updating information about the Sidewalk Sale all day long, with live video broadcasts at 7:30 a.m., 9 a.m., noon and 2 p.m. - and whenever else we might have something worth sharing.
Got questions? Just drop a line.
Copyright 2018 The Lawrence Journal-World. All rights reserved. This material may not be published, broadcast, rewritten or redistributed. We strive to uphold our values for every story published.