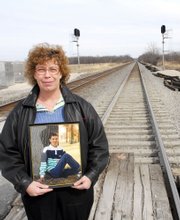 Le Loup — Eric Harris loved to drive the countryside when it was raining.
Harris would drive the roads of Franklin County in east-central Kansas when thunderstorms rolled into the area.
"Any time a storm or rain would come in, he'd drive around to see what all got hit and rained on," said his stepmother, Janet Harris of Wellsville.
On Sept. 13, 1998, Eric Harris, 23 at the time, was on his way from Baldwin City to his Wellsville home when his pickup truck was struck by a train at the railroad crossing on Ohio Terrace about a mile west of Le Loup.
"Around 4:30 p.m., the Franklin County sheriff came a calling, and I knew something was wrong," Janet Harris said.
Eric Harris' vehicle was southbound on Ohio Terrace, and the train was westbound at the time, authorities said.
His pickup was thrown about 200 feet by the impact of the collision, and Harris was pronounced dead at the scene.
"It is easy to understand how this could have happened because Eric was high-pitch tone deaf," Janet Harris said.
But the accident was just one of a number of wrecks at the crossing on Ohio Terrace before the area received crossing arms in 2004.
In 2000, the Kansas Department of Transportation declared the railroad crossing on the road one of the 10 most dangerous crossings in the state after several accidents there. Because of the designation, the road had to be closed or railroad crossing arms had to be installed.
"I don't think the public at the time knew how much train traffic there is on that line," Sheriff Craig Davis said.
He said initially, brush was an issue in visibility at the crossing.
"There were bushes and trees on the left and right of you," Janet Harris said.
Eventually, visibility increased after the brush was cleared, Davis said.
Following Eric Harris' death and a number of close calls, the Franklin County Commission approved placing stop signs at the crossing in 1999.
Janet Harris said she wrote a letter to the commission about action that needed to be taken on the road. The crossing arms finally were installed in 2004.
Eighty percent of the cost was paid by KDOT, with the remaining costs being paid by the Burlington Northern Santa Fe Railroad, County Public Works Director Jim Haag said. The total cost was $126,448, he said.
"Since it's had the crossing arms, there hasn't been any accidents that I know of," Davis said.
After the installation of the crossing arms, Janet Harris wrote to The Ottawa Herald, thanking the commission for its safety improvement on Ohio Terrace.
"The crossing arms may have been costly, but the loss of a child is much greater," she wrote.
Copyright 2018 The Lawrence Journal-World. All rights reserved. This material may not be published, broadcast, rewritten or redistributed. We strive to uphold our values for every story published.