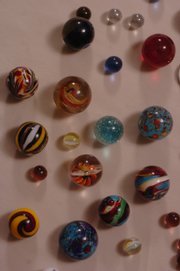 The Moon Marble Company in Bonner Springs has been named one of the 8 Wonders of Kansas Commerce, as determined by public vote.
The 8 Wonders of Kansas contests are a project of the Kansas Sampler Foundation, based in Inman. The contests are designed to help educate the world about Kansas and encourage travel; public accessibility is a criterion for consideration. The contest mission was not to find the most lucrative businesses in the state but to showcase Kansas-owned businesses that set the gold standard in their field, according to a news release from Marci Penner, executive director of the foundation.
More than 9,800 people voted in the commerce contest. The seven other wonders are Big Brutus, West Mineral; Brant's Meat Market, Lucas; Frontenac Bakery, Frontenac; Hemslojd Inc., Lindsborg; MarCon Pies, Washington; Stafford County Flour Mills, Hudson; and Vonada Stone Company, Sylvan Grove.
The 24 finalists ranged from manufacturers with a worldwide customer base to small retail stores. Winner Big Brutus represented historical commerce.
The other 16 finalists included the Bowersock Mills & Power Company, Lawrence.
Previous contests have chosen the 8 Wonders of Kansas, the 8 Wonders of Kansas Architecture and 8 Wonders of Kansas Art.
The next contest will showcase Kansas cuisine. Public nominations will be accepted in the month of March. See criteria at 8wonders.org starting March 1.
Information about all finalists can be seen at 8wonders.org.
Copyright 2018 The Lawrence Journal-World. All rights reserved. This material may not be published, broadcast, rewritten or redistributed. We strive to uphold our values for every story published.