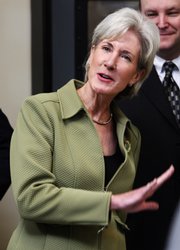 Topeka — Gov. Kathleen Sebelius once called on lawmakers to bring health coverage to all Kansas residents. Legislators largely ignored her.
The Democrat has supported proposals to increase tobacco taxes to pay for health care initiatives. Lawmakers never seriously considered them.
Her record on health care is getting renewed attention because she's viewed in Washington as a leading candidate for health and human services secretary.
She cultivates an image as a bipartisan problem-solver, but her ambitions on health care have often been frustrated by the Republican-controlled Kansas Legislature.
Sebelius' backers — and even some opponents — believe any governor's opportunities to make changes are limited, particularly because most states, including Kansas, face recession-related budget problems.
'Made the effort'
The governor and Republican leaders have haggled over the details of smaller steps toward controlling health care costs and making sure fewer Kansas residents are uninsured. Although she has made some headway, Sebelius has expressed frustration at what she sees as the slow pace of change.
"The fact that she's made the effort, that she's sensitive to what the need is, probably is what's going to be more important in Washington, " said John Rother, public policy director for AARP.
Sebelius was an early political ally of President Barack Obama during his 2008 campaign. She was a finalist for vice president and was frequently mentioned as a Cabinet possibility after the election. But she withdrew from consideration in December, citing the state's budget problems.
Her name surfaced quickly after Obama's first choice as health secretary, former Senate Majority Leader Tom Daschle, withdrew Feb. 3. Sebelius and her aides have said she is focused on her duties in Kansas, but they have not denied that she is interested.
In recent days, she has cut off questions at news conferences and other public events to duck the issue. She was in Washington this weekend for a meeting of the National Governors Association.
She said Friday before leaving Topeka that she believes the state has made some progress on addressing health care problems, but "not nearly enough."
"I think we'd have coverage for more Kansans, particularly coverage for all the children in this state," Sebelius said, summarizing her goals. "Some of it is financial, but I also think there's been a philosophical issue that we've seen play out in Kansas and also at the national level."
Track record
Since Sebelius became governor, the state has expanded cancer screenings, allowed more residents to keep their health insurance up to 18 months after leaving their jobs and granted income tax deductions to help lower insurance costs.
It also has increased funding for "safety net" clinics and expanded state medical and dental coverage for pregnant women.
Republican legislators generally have been wary of doing more, fearing that costs could balloon if the state expands government health programs. And they've wanted to stress making private insurance more available.
Sebelius, 60, was a Kansas House member and served two terms as the state's elected insurance commissioner before winning the first of her two terms as governor in 2002. Her supporters say her tenure in the insurance post allowed her to develop expertise on health care issues.
"She knows these issues," said Robert Zirkelbach, spokesman for an insurance industry trade group, America's Health Insurance Plans.
Republican state Rep. Melvin Neufeld, a former Kansas House speaker, said Sebelius' record probably fits with Obama's vision for changing health care.
"A lot of things that have been proposed, because of funding and philosophy, haven't been passed by the Legislature," Neufeld said. "It wasn't that she didn't propose the kind of agenda items that he promotes."
Copyright 2018 The Associated Press. All rights reserved. This material may not be published, broadcast, rewritten or redistributed. We strive to uphold our values for every story published.