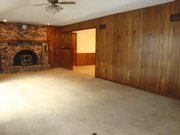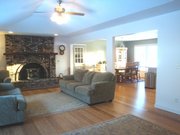 When Karen and Dermot Kerin planned to move to Lawrence from Wisconsin in late 2008, they wanted a beautiful house with little upkeep and renovation necessary. The house they chose was anything but simple work.
About six months before the Kerins moved to Lawrence, the local housing market decreased to half its original size. The couple searched around Lawrence for suitable homes, and none matched their desired home.
By chance, they found a house on a beautiful piece of land outside of Tonganoxie with room for horses and a large garden. While the landscape was stunning, the house was literally falling in on itself.
"Anything you could imagine was wrong with it," Karen Kerin says. "Our realtor walked off and said it was a waste of time.
The Kerins were determined to renovate the house to their liking, but they had a limited budget of $50,000. Through a series of friends and friends of friends, the couple were able to find a slew of affordable laborers and a contractor willing to share remodeling duties.
The couple did all the work they could do without professional assistance to save money. Karen Kerin says they also researched the best deals on housing equipment and materials in the area, trying not to be too picky.
The Kerins stayed on budget by finding sales at Home Depot and online even while trying to make the house more environmentally friendly.
"My husband was here for two months at night between 5 and midnight, sometimes 2 in the morning," Karen Kerin says. "He was doing the kind of work that doesn't require a lot of carpentry work. He spent hundreds of hours taking out, cleaning and trashing material."
Karen Kerin says though she and Dermot were new to the area, they were able to come in contact with trustworthy remodelers through a couple they met in January of this year. One of these people was Danny Veerkamp, who was contracting a remodel for the first time on his own.
"We started finding awesome people, who take great pride in their work — yet didn't have to charge us high-end professional fees," Karen says. "We cared about them. They cared about the work they did and us in our home. It became a community effort."
Veerkamp says the Kerins' remodeling process was not a typical contractor deal. Usually the contractor does the work and the homeowners come back a few months later to see the finished product, but because of the motivation to restore the house and save money, Veerkamp says the couple saved thousands of dollars on their budget and mortgage.
Though Veerkamp says more of his customers are planning to renovate their current homes instead of buying new ones, homeowners need to be careful if they plan to use the same contractor/owner agreement as the Kerins.
"If you're doing (renovations) in conjunction with a contractor, it would have to be somebody they trust," he says. "You would have to have a good working relationship with them because communication is so important — there's so many potential problems."
Many aspects of a home renovation do not require a professional contractor or remodeler. Veerkamp said even asking how much the contractor will discount you to clean up trash at the end of the day or tear up old carpet can save a considerable amount of money.
"My husband doesn't really know much about carpentry or house remodeling, so he was just a really hard worker," Karen says. "I know a lot of people who go after this sort of thing who have their hearts into it can do just about anything."
Copyright 2018 The Lawrence Journal-World. All rights reserved. This material may not be published, broadcast, rewritten or redistributed. We strive to uphold our values for every story published.