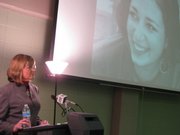 Topeka — The parents of slain Kansas University law student Jana Mackey said Thursday that they will push for changes in state law in hopes of reducing domestic violence.
"We believe it is our personal responsibility to use the story of Jana's life and the story of her death to help reduce violence against women," said Mackey's mother, Christie Brungardt.
"It is our deep desire to turn this tragedy into something positive," she said during a news conference at the YWCA. About 50 people attended.
Mackey, who was murdered in July 2008 in Lawrence, was well-known for her work on many social justice issues. Adolfo Garcia-Nunez, who was arrested in New Jersey in connection with Mackey's death, committed suicide in a holding cell.
Christie Brungardt and Mackey's stepfather Curt Brungardt, both of Hays, rolled out their priorities for what they called "Jana's Campaign."
The campaign, which includes a group of advocates fighting domestic violence, calls for passage of a bill that would require a domestic violence designation be placed on all legal documents associated with a criminal act related to an intimate relationship.
Sandy Barnett, executive director of the Kansas Coalition Against Sexual & Domestic Violence, said the proposal would help law enforcement keep track of repeat offenders. Sometimes a crime is committed, such as arson, and it goes undetected as a domestic crime, she said.
The bill would also require domestic violence offenders to undergo assessments for possible interventions and treatments. The Brungardts said this would reduce repeat offenses.
The legislation, introduced last session as House Bill 2335, is expected to be considered during the 2010 session, which starts next month. The Brungardts said they also would work on ensuring that sexual assault victims, especially in rural areas, have access to local specialized care instead of having to travel far for assistance.
Copyright 2018 The Lawrence Journal-World. All rights reserved. This material may not be published, broadcast, rewritten or redistributed. We strive to uphold our values for every story published.