Is there anything wrong with this picture? While the state has closed prisons, cut funding to schools, universities, services to Kansans with disabilities, and health care, it continues full-speed-ahead with a $285 million renovation of the Capitol.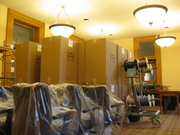 Because I work daily in the Capitol, I've become accustomed to maneuvering around the construction, which has been going on for approximately nine years. For full disclosure's sake, the Statehouse project has included construction of a new media area, which includes an office that I occupy (furniture provided by the Lawrence Journal-World). This will sound self-serving, but I think the public benefits from having a permanent media presence in the Capitol, as also was the case before the renovation project.
Sometimes, though, walking through the Capitol halls, it hits you that this massive, expensive project is going on at the same time Kansans are feeling great financial pain.
Last week was one of those times.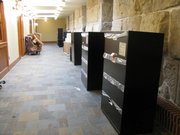 In preparation for the 2010 legislative session, which starts Jan. 11, a new underground wing of offices has been completed. Last week, there was a lot of rearranging going on to move members of our part-time Legislature into new or temporary offices, while the construction effort advances to the next phase.
In the hallways were mountains of boxes containing new desks and tables, file cabinets, chairs wrapped in plastic, and heavy wooded benches. Nice stuff.
Also last week, the Kansas Health Policy Authority initiated more cuts to meet Gov. Mark Parkinson's budget-balancing plan. These cuts mean that instead of 15,000 applications backed up for Medicaid services, there will soon be a backlog of 30,000 applications. And, doctors must take a 10 percent cut in reimbursement for Medicaid services.
Even with these cuts, you can bet that given the animosity that some legislators have for the KHPA, every penny that agency receives, or doesn't, will be highly scrutinized.
And yet, the Statehouse restoration continues with the full blessing of the Legislature's leadership.
Only a few lawmakers have raised a ruckus over the cost of the work. Supporters of the project say the building obviously needed repair, and once the work's finished it will be an awesome facility that the public will enjoy.
There's no doubt about that.
And those who support the restoration point out that this is precisely the time — when construction costs have gone down — to continue with the project.
During these difficult economic times, however, it's sometimes hard to reconcile the Legislature writing checks for that project, while using their budget knives on programs that benefit their constituents who are suffering.
Copyright 2018 The Lawrence Journal-World. All rights reserved. This material may not be published, broadcast, rewritten or redistributed. We strive to uphold our values for every story published.