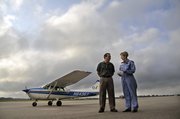 Hutchinson — At 90, Audrey Collins was finally doing what she always dreamed — sitting at the controls of a Cessna 172, about to taxi down the runway.
Ken Thornhill, 95, spent a recent morning sharing his beloved baseball card collection with a captivated one-time major league player. Both residents of Waldron Place, a Hutchinson assisted-living community, are learning that long-ago dreams can still come true.
That's because staff members will do everything in their power to make it happen. In fact, Collins refers to Waldron Place Community Resource Director Sue Schmidt as "The dream-come-true maker."
During a discussion with Schmidt, Collins shared her dream of always wanting to fly. Schmidt organized a 30-minute flying lesson for Collins at the Hutchinson Airport. Waldron Place paid for the lesson.
Taking off
Early one morning the diminutive woman sat on the edge of her bed as Schmidt helped her slip into the NASA flight suit, loaned by another resident, Art Marcoux, from his days working on the Apollo program. Then they tied a jaunty red, white and blue scarf around her neck.
Some residents appeared just as thrilled as Collins about the experience, singing "Off you go into the wild blue yonder," as she headed out of the building.
Many of the 36 residents of Waldron Place gathered outside to wave at the plane in the sky as Collins and her instructor buzzed the building, tilting the plane's wing as if to wave back. A large banner made from bed sheets was stretched across the lawn with the words, "Live Your Dream," painted across the cloth.
For Thornhill, his dream was to share his collection of 40,000 baseball cards with someone who would appreciate it. Schmidt learned of Bob Brower, who lives in Hutchinson and once played for the Texas Rangers and the New York Yankees, and is now an agent with The Scott Boras Corp. Brower breezed into Thornhill's room toting a large gym bag filled with goodies.
"Are you a Royals fan or Yankees fan today?" Brower asked.
Thornhill told him he was a Yankees fan. Brower reached in his bag and pulled out items from when he played with the team during the late 1980s.
"Put this on, it's my official jersey and you can wear it for the day," Brower said. "You can keep this," he added as he placed a blue Yankees ball cap on Thornhill's head.
Then he proceeded to share more baseball memorabilia and paused to go through Thornhill's collection of baseball cards.
The collection was missing Brower's card, but that was quickly remedied.
Wearing the surprised expression of a young boy who couldn't believe what a wonderful Christmas it turned out to be, Thornhill spread out his arms, glanced at his chest and announced, "I'm a Yankees man today."
'Person-centered'
What they are doing, according to Schmidt, is called "person-centered activities."
"We get to the heart of what the residents like and want and try to make it work for them," Schmidt said.
According to a recent report by the Council on Aging, the person-centered philosophy shifts from a care role to more of a support role for the older adult. Caregivers "listen to what the older individual is saying, listen to what they actually mean and then act on what they hear."
Waldron Place is one of 14 Americare Communities in Kansas.
"It's listening with your heart to what the residents are saying, getting to know them and their families," said Lisa Valentine, Waldron Place's executive director. "One of the things that makes it easier is that we're small. So we have the opportunity to develop the intimate relationship with our neighbors. We prefer to call them neighbors," Valentine said of the residents.
Fulfilled dreams
When Thornhill, a one-time owner of a neighborhood grocery store in Careyville, was trying to decide if he should move to Waldron Place, he wanted to know if he could bring his baseball cards, his daughter Judy Mann said.
The staff assured him there would be room for his hobby. Today the collection takes up a corner of the room.
Schmidt recently helped Jeannette Millspaugh enjoy a little fantasy after learning her dream was to be a movie star. Staff planned a special picnic in the dining room and showed the movie.
But that's not all; Schmidt made sure there was a red carpet rolled out and that Millspaugh arrived like a celebrity.
"She was wearing a white fur, dripping in rhinestones," Schmidt said. She even received a replica of an Academy Award that night.
Schmidt believes she has the best job in the world.
"They all have such neat stories. They come here thinking it's a more end-of-life place," she said. "I want them to live and have quality of life and good times."
Copyright 2018 The Lawrence Journal-World. All rights reserved. This material may not be published, broadcast, rewritten or redistributed. We strive to uphold our values for every story published.