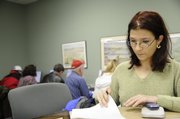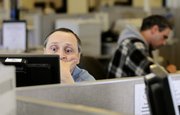 Dan Consolver is glad to be surrounded by people in his own predicament.
Sort of.
"Misery may love company," Consolver said, "but we'd rather not be miserable."
Consolver is part of a new group in town, a group necessitated by cutbacks by local businesses — the Career Connections group at St. Margaret's Episcopal Church, 5700 W. Sixth St.
The group started meeting in February with the goal of providing both emotional support and job-hunting tips to members.
For some, such as Consolver, it's been years since they've searched for a job. Consolver has worked at several jobs at Kansas University during the past 27 years, but his current position will be eliminated June 30.
That has him on the fast track to finding a new job.
A lot has changed since the last time he had to search for work. Of course, the Internet has revolutionized the application process. But there's a bigger change: competition.
As of mid-March, he'd had four interviews from the dozen or so applications he'd submitted for financial- and technology-related jobs.
"You've got to get in the batter's box to get a chance at it," he said. "Things are going reasonably well."
Positioned well
When it comes to unemployment, Lawrence has it better than most cities in the state.
The statewide unemployment rate in February was 6.2 percent compared with 3.6 percent in Lawrence.
Inayat Noormohmad, senior labor economist with the Department of Labor, said those numbers are pretty typical for Lawrence. He credits the lower rate to being a university town.
"That's even cyclical," he said. "But universities don't go through as many cyclical effects as other industries."
As for the future, Noormohmad said unemployment rates may continue to rise, even after the economy hits bottom and starts improving.
"Labor markets are slow to adjust," he said. "Even if the recession were to end today, we'll still see some further slowdown in terms of labor markets."
Support network
John and Susan Wade are prepared.
They started Career Connections, knowing that people without jobs needed resources, both personal and professional. The group meets at 7 p.m. Mondays at St. Margaret's.
John Wade is a psychologist at Counseling and Psychological Services at Kansas University, and Susan Wade is director of career development at Baker University.
"It's got to be very discouraging" to be laid off, Susan Wade said. "But knowing it's discouraging, there are things we can do to cope with this."
She said a major emphasis is networking, though a whole range of topics comes up, including using job search Web sites, dealing psychologically with a layoff and honing résumés and application letters.
For some people, applying for jobs is part of the grief process of being laid off. For others, they have to deal with the emotional and psychological issues before they can look for a new position.
"This is individual," John Wade said. "I wouldn't make a blanket prescription for everybody. One of the problems with job loss is not having control over our lives. The more things we can do to take control and to be proactive, the better."
Positive outlook
Consolver is doing his part to be proactive.
Though his position as director of Academic Computing Services at KU is being eliminated this summer, he's hopeful about finding a new job. Still, he admits, "It's a little different pressure, knowing the clock's ticking."
All the while, he's trying not to dwell too much on the bad financial news.
"I'm always trying to figure out what people are doing, and what businesses and government are trying to do to turn things around. I'm looking for the turnaround," he said. "When they start saying, 'Unemployment hits new high,' I don't get too far into those articles."
Copyright 2018 The Lawrence Journal-World. All rights reserved. This material may not be published, broadcast, rewritten or redistributed. We strive to uphold our values for every story published.