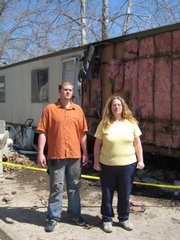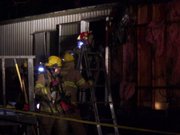 Eudora — Police arrested a homeless man on suspicion of aggravated arson Tuesday morning after an early-morning fire that severely damaged a mobile home.
Emergency dispatchers sent firefighters and police officers to the fire in eastern Eudora at 12:45 a.m. Tuesday.
The residents of the home, Sarah Klebenstein and her 17-year-old son, both escaped unharmed. Klebenstein later entered the residence to rescue her dog.
"I saw a flickering light out in my front bedroom and I looked out my window and told my son the trailer was on fire," she said.
Witnesses at Grandview Trailer Park near 10th and Ash streets said they saw a man running away from the scene of the fire. Klebenstein said it was her ex-boyfriend.
A Douglas County Sheriff's Office spokesman said the suspect was located in Lawrence, near 13th and New Jersey streets, and arrested at 4:02 a.m. Tuesday.
The suspect, a 41-year-old resident of Lawrence Community Shelter, 214 W. 10th St., was booked into Douglas County Jail. He has not been formally charged in court.
Eudora Fire Chief Randy Ates estimated the structure suffered $4,000 in damage. He said most of the fire damage was outside of the structure near the front door.
"We got lucky," he said. "These old trailers go up so fast. The police department knocked it out with extinguishers first. If they didn't do that, we would've had a mess."
The Douglas County chapter of the American Red Cross said it's providing financial assistance to Klebenstein, who said she's committed to repairing her home.
"That's my main focus," Klebenstein said. "I don't want to stay anywhere else, I want to come home. This is our home."
Copyright 2017 The Lawrence Journal-World. All rights reserved. This material may not be published, broadcast, rewritten or redistributed. We strive to uphold our values for every story published.