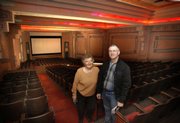 Anthony — This small south-central Kansas town of 2,200 residents is taking on a task of Hollywood proportions — raising $1.2 million to restore its Main Street theater to its former movie palace grandeur.
"It is intimidating to a small community to talk about that many dollars," said Lyle Wellbrook, a member of the committee working on the Anthony Theatre restoration project.
"It scared us, the committee, at first," said Wellbrook, who owns and operates Marshall Jewelry about a block and a half from the theater. "We were thinking half that much money, and we were scared of that."
Community support
However, the notion of preserving an architecturally unique theater and once again showing movies there is winning over supporters, said another committee member, BarBara Wright.
"I've served on a lot of committees and seen a lot of things happen, but I've never served on one that has so much community support behind it," Wright said.
Since the Anthony Theatre stopped showing movies on an irregular basis about six or seven years ago, Anthony residents have had to drive an hour or more to theaters in Wichita.
However, there are more reasons than convenience for restoring the Anthony Theatre, which first opened its doors Nov. 23, 1936, with a showing of "Love on the Run," starring Joan Crawford, Clark Gable and Franchot Tone.
"Its decorative Art Deco exterior and opulent interior treatments are hallmarks of the movie palaces that were built across America in the 1920s and 1930s," says the document that put the theater on the National Register of Historic Places on April 18, 1991. "These buildings were designed to be showplaces, with sumptuous appointments, inviting the rich and poor alike to share the lavish surrounding and escape into celluloid fantasies."
Christy Davis, a Topeka preservationist working with the committee to obtain funding for the project, said the Boller Brothers, of Kansas City, Mo., designed many of the other Kansas movie palaces of that era and did so in the Spanish Colonial Revival style.
'Rare survivors'
However, Davis said the Anthony, designed by S.S. Voigt, of Wichita, is "a very rare example of an Art Deco theater that's intact, both the exterior and interior."
"A lot of theaters in the '50s got modified on the exterior," Davis said. "Many of them might be a 1920s theater, but they have a 1950s marquee. This building still has its original marquee, and it's Art Deco."
"It's one of the rare survivors," she also said.
Wright said the Harper County Preservation and Tourism Alliance while working on another project began discussion more than a year ago about the Anthony, whose former owner had been reluctant to sell.
However, John Gaffney, an Anthony attorney, negotiated a one-year option to purchase the building for $42,000. Fundraising commenced, but Wright said the committee was $17,000 short and the option was about to expire when Randy Patterson, of the Anthony Livestock Co., stepped in to donate the balance.
Places Architects, a Wichita firm, inspected the integrity of the building, declaring it "a remarkably sound structure, relatively easily restored, and historically significant enough to warrant every effort to renovate this building to its former function and beauty," wrote architect Paul Cavanaugh.
Budget planning
Cavanaugh developed for the committee a phased $1.2 million budget, the first element of which is $110,000 for repairs, including ones to a masonry wall that if not done could severely damage the building.
Davis has written for the committee a grant request to the Heritage Trust Fund administered by the Kansas State Historical Society that would fund most of that first phase. Anthony will learn in May whether it will receive the grant.
Wellbrook said the committee wants to preserve as much of the theater's original appearance as possible. Toward that goal, the committee acquired an adjoining lot on which it plans to build a new structure that would accommodate handicap-accessible restrooms, storage, offices and concessions.
Wright said the committee wants space for dressing rooms so the Anthony also could be used for live theater, possibly with a dinner theater option in the new structure.
The budget also calls for digital projection equipment and a modern sound system. Representatives of the company that installed the theater's original seating are working with the committee on a way to incorporate that hardware into more spacious and comfortable seating.
Originally, the theater sat 587, but Wright said the renovated theater likely would have around 350 seats.
Other grant applications are in the works, and Davis said the committee also will apply for tax credits available for restoring historical buildings.
Donations to the project are tax-deductible as the Harper County Preservation and Tourism Alliance is a project of Sunflower Resource Conservation and Development Inc., a nonprofit group covering eight south-central Kansas counties.
Copyright 2018 The Associated Press. All rights reserved. This material may not be published, broadcast, rewritten or redistributed. We strive to uphold our values for every story published.