Photo Gallery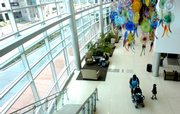 KU Hospital
Kansas City, Kan. — Kansas University Hospital is one of the state's biggest success stories.
Ten years ago, the hospital was fighting for survival. Employee turnover was high, patient volume was low, and money was hard to come by. The hospital was on the verge of bankruptcy as a state agency.
"Without a doubt, the hospital was in a desperate situation," said Irene M. Thompson, formerly Irene Cumming, who was president and CEO of the hospital from 1996 to 2007. She now is president and CEO of University HealthSystem Consortium.
It took months to get anything done because of the red tape typical of government processes. Hiring a new employee, purchasing equipment, awarding a pay raise or ordering repair work often took months to accomplish.
"The hospital simply couldn't do the kind of problem-solving and planning that they needed to be able to do when they had to come back to the Legislature annually and get permission to do anything of substance. You just can't run any business that way and especially not a major hospital," said Dave Kerr, a hospital board member.
After two legislative sessions and a ton of paperwork, the hospital officially moved on Oct. 2, 1998, from a state entity to one governed by its own authority.
That switch sparked a remarkable turnaround.
"It's just made everything better," said Kerr, who was a senator when the legislation passed. "At the time, the hospital appeared to be only a year or two away from requiring subsidies just to survive, and that all turned virtually on a dime when you look at the graphs of profitability and patient satisfaction and staff satisfaction."
Today, KU Hospital is earning national recognition. U.S. News and World Report ranked it 30th in the nation for heart care and heart surgery out of 5,500 hospitals. The University HealthSystem Consortium ranked it 11th in overall quality and safety among the nation's top 81 academic medical centers.
The hospital serves a record number of patients each month. From 1998 to 2008, patient volume grew from 13,000 to 22,000, and employee turnover decreased from 33 percent to 11 percent. Revenues have climbed from $189 million to $668 million - a 250 percent increase.
"It was an issue that showed the wisdom, I think, of the Board of Regents and the Kansas Legislature. They made it possible for the hospital to be able to compete in the health care market place and that has opened up all kinds of possibilities for the hospital," KU Chancellor Robert Hemenway said.
"It's a real success story. The hospital is an institution in Kansas that everyone can be proud of."
But, it wasn't always that way.
Hospital's low point
Stacy Smith, nurse manager for neurosurgery, joined the hospital in 1993. She recalled days when nurses were sent home because they weren't needed and watching a hole in the ICU's linoleum grow as it awaited repair. Communication was poor and many employees didn't understand how the hospital operated, she said.
"There was a lot of, 'Well, it's the state and that's just the way it works. You can't do anything about it because that's just the state,'" Smith said. "We just kind of gave up because it just wasn't going to go anywhere."
Smith said she was surprised by how little construction there was at KU Hospital. She had come from St. Francis Medical Center in Peoria, Ill., where a building project always seemed to be under way.
That's because money was tight at KU. The bureaucratic process permeated every facet of the hospital: employees, patients, donations and construction. The hospital was leasing its cancer center, and its heart program was in shambles - two areas that any administrator or doctor would say are the keys to a successful hospital.
"We were living paycheck to paycheck," said Jon Jackson, senior vice president and chief administrative officer.
Jackson, who has worked at KU for 25 years, recalled going in front of the management team as chief operating officer and warning them not to spend money because they only had two days of cash in the bank. He said the hospital often had only about two weeks' worth of cash in 1998.
"That's awful," he said, especially when compared with today's 200 days of cash on hand.
Leaders sought advice from a consultant, who delivered a startling report.
"It showed that absent a change in course we were going to lose $20 million annually by 2000," Jackson said.
That kick-started talk about selling the hospital or establishing the hospital as an independent entity, among other alternatives. Initially, there was opposition to letting the hospital operate on its own. Kerr said some people worried that the hospital would go broke; also, employees voiced concern about their retirement packages.
Smith remembered having those concerns, but ultimately having trust in the administration. Out of 2,200 employees offered a choice between keeping their state employee status or joining the hospital's pay system, only one declined the jump.
"We all had a sense that there were lots of things that didn't get done because we didn't have money, and maybe this would give us the ability to move past that,'" Smith said.
Thompson said that trust by employees and state leaders was important.
"The key to the turnaround was the willingness of so many to take risks to secure the future of the hospital," she said.
Heart and cancer care
The nurse who once barely saw construction at KU Hospital is now watching a new 24,600-square-foot area on the sixth floor being built for her area of expertise: neuroscience. She put on a hard hat and gave a tour of the approximately $3.5 million area that will include a 22-bed telemetry unit that will allow doctors to monitor patients who have stroke, epilepsy or seizures. She pointed out a new private family room and one of 14 new ICU rooms.
"It's the best thing since sliced bread," she said of the area scheduled to open Dec. 8.
It's just one of numerous projects that have been built during the past 10 years when capital investment grew from $33 million to $374 million.
Many point to the seven-level, $77 million Center for Advanced Heart Care, which opened two years ago, and the three-level, $36 million Cancer Center and Medical Pavilion, which opened last year, as being the high points.
"If you look at people who are dying in our communities, it's either heart-related or cancer-related, so obviously we wanted to commit the resources to help treat those and in fact prevent them when we can," Jackson said.
In the late 1990s, the hospital didn't have a heart surgeon or cardiologist. So, it was a big coup when Dr. William Reed, a surgeon, joined KU Hospital in 2000 after working at St. Luke's Hospital for 29 years. After Reed joined, three other surgeons, 22 cardiologists and 80 percent of their patients followed.
"It was a marriage made in heaven," Reed said. "Many of us had attachments to KU from times past." Reed trained at KU from 1954 to 1960 and then spent 10 years on the faculty.
"We also had a positive feeling about the new direction that the hospital was going, and we had a lot of trust in the hospital authority."
Reed credits Thompson and her management team, including Dr. George Farha, for the hospital's success.
Farha, of Wichita, has served on the hospital's board since it was formed. He said their first priorities were buying back the cancer center and acquiring a heart program.
"To be respectable as a center, you should have those two, and we certainly have them now," he said.
Emphasis on patients
Farha is known as the father of patient care. His advice then and now is, "If you take care of the patient, the business will take care of itself."
Farha, chairman of surgery for KU's Wichita campus for 25 years, said it could be difficult to put patients first in an academic hospital where doctors are split between education, research and clinical care. But, he said, the hospital would fail if it didn't.
Since 2000, patient satisfaction has grown from 10 percent to 92 percent, according to the Press Ganey survey. KU ranked first in patient satisfaction five out of the past six quarters among Kansas City hospitals.
Greg Gelatka, 60, of Shawnee, recently was recovering from a surgery and gave the hospital a rave review.
"It's just been really wonderful. I can't find a fault in this experience from the faculty to the food," he said.
He said his one-week stay in the Center for Advanced Heart Care was like living in a "penthouse."
Bob Page, president and CEO, said patient satisfaction continues to be the No. 1 priority. He said every employee goes through eight hours of customer-service training, and they closely monitor patient satisfaction.
"We are very outcomes-oriented and we put up our data against anybody. We benchmark against the best in the country, and we are relentless in our pursuit of being the highest quality, highest service organization," Page said.
And when patients have good experiences, donations follow. Since implementing a philanthropic program in fall 2001, the hospital has received $13.5 million in contributions, including $3.5 million in 2007.
Smith said two nurses each receive a $1,000 award annually because of the quality of care given to the Robert Riss family of Kansas City, Mo.
"It was just really important to them that they be able to give back to the people that provided such great care of them. There are a lot of examples of that," she said.
Bright future
Page said the priority for the next 10 years is maintaining the progress of the past decade.
"Our goal has and will continue to be the best hospital in the country," he said. "The challenge is once you get there, you have to stay there."
He said the recent affiliation agreement between KU Medical Center and Kansas University Physicians Inc. has sparked new energy.
"There's a level of enthusiasm on this campus that I haven't seen in the 12 years that I've been here around all three parties on this campus working together," he said. "I see the anticipation and kind of the, 'Oh my gosh, what's next?'"
"I think the sky's the limit in terms of what we can do."
But, Page added, the hospital's past helps keep them grounded.
"Being so close to that bad memory of the past, you can't really be very arrogant. We've got a lot of work to do, and I think it's that humility and that competence that combine to make us as good as we are."
Copyright 2018 The Lawrence Journal-World. All rights reserved. This material may not be published, broadcast, rewritten or redistributed. We strive to uphold our values for every story published.