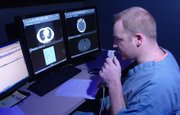 It's been nearly four months since Kansas University Hospital and KU Medical Center reached their long-sought master affiliation agreement for the next 10 years.
It replaces the original affiliation signed shortly after the struggling hospital was separated from the university and given the chance to exist semi-independently of the state appropriation system. Since then, the hospital has thrived and is now in a position to make larger payments to the university to support the School of Medicine.
Bob Page, KU Hospital CEO, said at a Hospital Authority board meeting last month that since the agreement was signed, he and others from the hospital, medical center and physicians group are meeting regularly about the finished agreement.
"Our goal is to sit down now that the deal is done and make sure it gets implemented," Page said. "We've had two meetings so far, and we've scheduled them for every Tuesday for the next three months."
All told, the affiliation agreement will lead to the construction of a $70 million medical office building at the 39th Street and Rainbow Boulevard medical campus in Kansas City, Kan., $16 million more for research funding from KU Hospital to the medical center, as many as 100 new residents funded by KU Hospital over the next about 10 years (in addition to the 100 funded by St. Luke's), and more autonomy for the KU physicians group, which comprises the hospital staff of KU Hospital but previously reported to KUMC.
Especially important to Lawrence out of all of the numbers and agreements reached between the hospital and medical center is the additional research and education support the hospital will provide. Much of this funding is expected to help fund research at the medical center and will likely help KU in its effort to attain National Cancer Institute designation.
In addition to research in Kansas City, Kan., KU's Lawrence-based School of Pharmacy is heavily involved in drug research that would go to an NCI-designated medical center.
Now that the affiliation in Kansas City, Kan., has been signed and implementation has begun, leaders of the medical center are turning their attention to the Wichita Center for Graduate Medical Education.
At a Kansas Board of Regents meeting in March, KUMC Executive Vice Chancellor Barbara Atkinson made a case for about $22 million in additional funding for the two hospitals that offer residencies in Wichita.
"They depend much more heavily on volunteer faculty," Atkinson said. "We need to support basic sciences there as we expand residency programs."
This issue is very close to the hearts of many in Kansas, especially in the Legislature, because the Wichita campus produces the majority of family and general practice doctors who stay in Kansas.
Via Christi and Wesley hospitals in Wichita, in addition to funding the residencies, also spend a lot of money covering care for the uninsured in Wichita.
"They're paying a disproportionate amount compared to KU Hospital," Atkinson said. "But KU Hospital got a good deal when they left the university. I think the issue here is the money that needs to pay for additional faculty and scholarly work."
Scholarly work could include research, journal article discussions and many other nonclinical activities.
The proposal for more funding, which would need legislative approval, has not advanced because of the tight budget conditions.
It is expected to be taken up in the omnibus budget proposal this month or next.
Copyright 2018 The Lawrence Journal-World. All rights reserved. This material may not be published, broadcast, rewritten or redistributed. We strive to uphold our values for every story published.