Kansas City, Kan. — At first glance, everything seems normal when you walk in the front door of the hospital: families coming and going, nurses taking care of patients, doctors making the rounds in lab coats.
But a controversy is boiling just under the surface here at Kansas University Hospital regarding its complicated marriage with the KU Medical Center, which provides medical professors and students to staff the hospital.
In essence, the medical school is now seeking to branch out from the union and include a new partner: St. Luke's Hospital across the state line in Kansas City, Mo., where KU doctors-in-training soon could be making their rounds.
William Reed, a longtime heart surgeon who heads KU Hospital's department of cardiovascular diseases, says KU's liaison with St. Luke's is a mistake that could harm Kansas for decades to come. To him, good partnerships - whether they're marriages or hospital deals - are built on trust, shared risk, a clear need that must be filled and shared benefits to all the parties involved.
None of those things, he said, is present in the planned deal between St. Luke's and KU.
"We don't have a need for graduate education to go to St. Luke's. They have a need for us to upgrade their program. It'll hurt our program," Reed said. "What do they have at risk? They have no risk. The risk for us is that KU Hospital will fail.
"And of course," he said, "there's no trust."
Background
KU leaders in favor of the change, including Chancellor Robert Hemenway and Barbara Atkinson, executive vice chancellor and dean of the KU School of Medicine, insist they will not make any deal with St. Luke's that will harm KU Hospital or the state.
The school has agreed that KU Hospital will remain its primary hospital, but what that means hasn't been clearly defined.
"I'd say the biggest misconception is that this is about Kansas money flowing to Missouri," Atkinson said Thursday in her office, as she prepared to head to Topeka to meet with members of the Legislature, who are considering a law that would require lawmakers to sign off on any deal.
Hemenway, in remarks to lawmakers this week, said it "may be impossible" for KUMC to reach its goal to become a comprehensive cancer center - and to get the millions in new research dollars that would come with it - if it doesn't build more affiliations.
He pointed out that a group of corporations and donors -including Hallmark, Sprint and three anonymous benefactors - have pledged $150 million of support to KU if the affiliation plan goes through. If it doesn't, he said, there's nothing to stop Kansas City hospitals from striking a deal with a cancer center elsewhere.
Last week, former Hallmark CEO Irv Hockaday announced that KUMC and St. Luke's had signed letters of intent to have a deal done by March 31.
"There is one purpose to these affiliations and only one," he said at the time. "That is to accelerate and elevate medical research and patient care in our region."
Audio Clips
KU Medical Center merger
Yet faculty say that it's about more than just boosting patient care and finding cures.
"It's a complex money game, I think," said Lynwood Yarbrough, a professor of biochemistry and molecular biology the medical center. "And I think that has negative fallout for universities when they get caught up in this. ... In my view of it, it's driven by the moneyed people in Kansas City who want to control KU Med as much as possible."
St. Luke's leaders bristle at the suggestion that they need KU's brand or its support. They say they're only in the negotiations because Kansas City community leaders asked them to consider working with a local partner to build their cancer program, rather than with, say, Washington University in St. Louis.
"If something were to not officially work out with KU, we would move forward with another partner," said Corrine Everson, vice president of marketing for St. Luke's Health System. "It's not like we're hurting or that we're desperate to form this."
History
The relationship between KU Hospital and KUMC works roughly this way: The hospital's leaders run the day-to-day operations of the hospital, and KU supplies it with doctors - who are members of the KU medical faculty - plus a staff of 300 medical residents per year.
KU Hospital and KUMC used to be one and the same, but in 1998, with the hospital on the verge of going out of business, they split. The idea was that if they were legally separate, the hospital could be run like a business and could better compete with other hospitals including St. Luke's, which is situated on the Country Club Plaza and has long-standing, wealthy benefactors.
"St. Luke's has more money, more history of philanthropy in this community," Reed said. "They have a large foundation. They have political connections."
Since the split between KU's hospital and medical school, KU Hospital has made big gains in the marketplace. One came when Reed and two dozen more heart doctors left St. Luke's in 2000 after a business-related flap and brought their heart program to KU Hospital.
"About 75 percent of our patient volume we had at St. Luke's came with us," he said.
KU Hospital leaders like to point out that their patient-satisfaction numbers have skyrocketed since 1998, along with their revenues, which have nearly tripled.
Reed credits KU Hospital's CEO, Irene Cumming, with turning the hospital around. One of her first moves was to pay $18 million to buy out a contract the medical school had arranged with a private company to provide outpatient cancer treatment - a potentially lucrative service the hospital was missing out on.
"She's put investments into areas that will bring the highest revenue to the hospital, and then using that revenue to grow other programs," Reed said.
Photo Gallery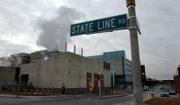 KU Medical Center merger
KU Hospital now bills itself as "the region's premier academic medical center." Last fall, Reed and his colleagues moved into a $75 million heart hospital-within-a-hospital that's one of the first things patients see when they come in the door at KU Hospital.
That's a big part of why Reed is concerned about the hospital's future.
"I feel I led the people here," Reed said. "If it turns out to be a bad deal, then I feel responsible for it to some degree."
Dollars and sense
KU Hospital leaders say they were stunned to learn that St. Luke's and KUMC were working on a deal together and that they were shut out of the early negotiations.
But the gripes aren't only on the hospital's side. In recent months, Atkinson has criticized the hospital for not contributing enough financially to KU's academic enterprise. Given the resources that flow into the hospital from the medical school - and given the hospital's financial success in recent years - some say the hospital should be giving much more money back than the roughly $30 million it provided last year.
Also, KUMC leaders say the hospital undertakes big projects without any input from the school, such as pursuing a major sponsorship of the planned Sprint Center arena in downtown Kansas City.
"I think there's a little bit of a double standard at work here," said David Adkins, a former state senator who serves as KUMC's vice chancellor for external affairs. "I believe that when unilateral action serves their purpose, they may pursue it in that vein. When they think a little more collaborative approach is needed to protect their interests, they would urge that."
When the new heart center opened last fall, it displaced the family medicine department, which is now in an older part of the building.
Allen Greiner, the family-medicine department's interim director of research, said people sometimes wonder why the hospital has maintenance problems - such as a radiator that exploded recently - when there's a new heart center at the front of the building, complete with multicolored glass sculptures hanging from the ceiling.
Even though Greiner works with patients in the hospital - he dropped in Thursday on a tattoo-covered man recovering from hernia surgery - he has little financial relationship with the hospital. He thinks the St. Luke's affiliation is a good idea. But he said other faculty receive part of their salary from the hospital and hold titles that they may be fearful of losing if they spoke out in favor of the affiliation, he said.
How they compare
¢ KU Hospital has an annual budget of $530 million; KU Medical Center, which includes the schools of medicine, nursing and allied health, has an annual budget of $248.3 million.¢ The two entities share a three-block-long complex at 39th Street and Rainbow Boulevard in Kansas City, Kan. The complex encompasses 3.8 million square feet, of which the hospital makes up 1.1 million square feet.¢ Each year, the school of medicine supplies the hospital with about 300 residents, or young doctors who have completed medical school but pursue specialized, academic training. KUMC leaders hope to add 100 residents in the next decade. They say that KU Hospital won't experience a net loss of residents if the school succeeds with its plan to start sending some residents to St. Luke's Hospital in Kansas City, Mo.
"If you're a surgeon, the hospital bills for the surgical procedure and makes a lot of money off the work you do," Greiner said. "Everybody's kind of got a different relationship with the hospital."
Faculty concerns
Reed, the KU Hospital heart surgeon, said that one KU faculty survey found more than 80 percent of the respondents opposed an affiliation with St. Luke's.
But Yarbrough, KUMC professor, says many faculty don't feel free to speak their minds for fear of reprisal, such as losing an appointed leadership position. He's about to retire at the end of the year and already has gone to half-time.
"There's nothing they can do to me," he said. "I can say what I truly believe, and I don't give a damn."
He said he worries that hospital CEO Cumming may be forced out - that Gov. Kathleen Sebelius may pack the hospital's board to get rid of her.
"I hope I'm wrong," he said. "She's been a fantastic leader, as far as I'm concerned."
For Reed, the affiliation brings the specter of unfair competition. He said higher pay and other perks at St. Luke's may prove an irresistible draw for many of the medical school's top faculty.
"Let's say Lawrence High is going to go play the Jayhawks," he said. "And we're Lawrence High."
Copyright 2018 The Lawrence Journal-World. All rights reserved. This material may not be published, broadcast, rewritten or redistributed. We strive to uphold our values for every story published.