It's no secret that Kansas City hospitals are in a competition for our hearts.
"There's always competition for cardiac patients in Kansas City," said Kenneth Huber, executive medical director of St. Luke's Mid America Heart Institute in Kansas City, Mo.
The next step in that race comes next month when the University of Kansas Hospital opens a $77 million Center for Advanced Heart Care, a 238,000-square-foot stand-alone facility dedicated to heart care on 39th Street in Kansas City, Kan.
The center is the second facility in the region to be dedicated solely to heart care. Its opening means competition for St. Luke's Mid America Heart Institute on Wornall Road, which has been the only stand-alone heart care facility in the area since 1980.
"I'm very, very excited about the position that we're in," said William Reed, KU Medical Center professor and chairman of the department of cardiovascular diseases. "I think that the new heart hospital will give us that additional momentum to move forward."
Competition
In 2005, KU Hospital performed 699 heart surgeries and 756 implants of pacemakers or defibrillators, and handled 2,812 interventional procedures in its catheterization labs.
Reed said the new KU facility would have a "beautiful" area for patient admissions and liaison nurses whose job is to familiarize patients with what will take place in the course of their care.
There will be private patient rooms with space for family members to spend the night, a resource center for education, wireless Internet access and special walking corridors for patients to use as they get back on their feet.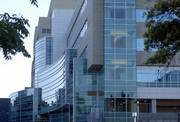 The setting will place all professionals in one concentrated location, Reed said.
It's an upgrade that will benefit consumers, said John Leifer, an independent health care consultant with The Leifer Group in Leawood.
"KU Medical Center is not what I'd call a terribly hospitable environment from a consumer perspective," Leifer said. The new facility puts "a much more consumer-friendly face on the Medical Center."
But Huber, president of Cardiovascular Consultants Inc. at St. Luke's, questioned whether the center was anything more than a new version of St. Luke's facility.
"It looks like they have really built a beautiful facility, which is going to pretty much model what we have now," Huber said.
One-upmanship
In a move that Huber hopes will outdo KU's new center, St. Luke's plans to build its own new facility for the Mid America Heart Institute across the street from the existing institute. The new building - part of a master plan for a "New St. Luke's" - is expected to be finished by 2010.
"When a patient comes into this new Mid America Heart Institute, they will come into a destination : where they can be assured that they will have access to the most comprehensive program in Kansas City," Huber said.
Huber said the hospital would use a patient-focused model rather than one that is driven by physicians' needs.
He said patients would have access to a comprehensive program with specialized centers focusing on topics such as preventative cardiology, diabetes and congestive heart failure.
There will be a spectrum of services, with both inpatient and outpatient care.
"It's really kind of a one-stop shopping kind of environment," Huber said. "We're kind of thinking ahead, rather than the here and now."
History
But it's not KU's shiny new building that has changed the heart care landscape in the area, Leifer said.
"If anything, this would just be icing on the cake," he said.
Leifer said the real sea change came in 2000 and 2001 when Mid-America Cardiology Associates, co-founded by Lynn Kindred, and Reed's MidAmerica Thoracic and Cardiovascular Surgeons left St. Luke's for KU Hospital.
The move followed a fallout with St. Luke's about management of the program, which after secret meetings was put in the hands of Cardiovascular Consultants, Reed said.
Reed said some at St. Luke's were skeptical the physicians would go to KU Hospital.
"They thought if we did that it would fail," Reed said. "I believe that's what they thought. KU had a lot of difficulties."
But Reed, who got his start at KU, and others opted to move to KU where the promise of a new heart hospital was a carrot that helped lure them.
"It was part of the negotiations that we had with the hospital prior to coming," he said. "It was trying to establish a vision for the future of the program here."
Patients win
As the two hospitals compete, some spectators say it is patients who win.
Jeff Eckert, president of consulting firm MediCo Unlimited LLC, said some analysts may say too many beds cause inefficiencies and drive up patient costs.
But Eckert said though health care has become more expensive during the past few decades, the quality of services has increased more than the cost.
"Yes, it's more expensive, but the quality of the care is astronomically higher," he said.
Eckert said some may say St. Luke's and KU Hospital are making big investments that don't make a difference, but that's not the case.
"I view it as good for the patients," he said. "They have a better opportunity to survive now that St. Luke's and KU have invested millions and millions of dollars to upgrade their facilities. You get these cynics who think it's all sizzle and no steak. It is definitely steak. It is substance."
Copyright 2018 The Lawrence Journal-World. All rights reserved. This material may not be published, broadcast, rewritten or redistributed. We strive to uphold our values for every story published.