Three years ago, Kansas University Medical Center had a problem. Its hospital was on the brink of losing millions of dollars.
Legislators didn't want that, so they set up a separate board to run the hospital. KU still runs the medical school and is in charge of research.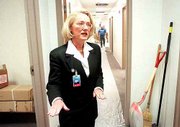 The new arrangement, hospital officials say, has given the KU Hospital Authority the freedom to compete.
Patient numbers are up. There's money in the bank. And a state-of-the-art heart and lung program should be under way by June.
The hospital also has regained control of its cancer treatment operations, which had been turned over to a private company in California. It plans to eventually resurrect its heart-transplant program as well.
Experts say the hospital's trauma unit is one of the best in the nation and its equipment is some of the most sophisticated in the Midwest.
"We have been successful thus far in fulfilling our mission," said Irene Cumming, the hospital's president and chief executive officer since 1996.
Three years ago, KU Medical Center's hospital operations showed a $1.6 million profit. Last year, revenues exceeded costs by $5.3 million.
That doesn't sound like much for an institution that expects to spend about $250 million this year, but Cumming says it is.
"If you look across the country at other academic medical centers, they are losing millions of dollars and when I say 'millions' I mean like $80 million or $100 million," she said. "Many universities are now looking to sell their hospitals because they're fearful of their financial drain. So for us to break even would be an accomplishment; for us to show a profit is truly significant."
Senate President Dave Kerr, R-Hutchinson, was chairman of the Senate budget committee when lawmakers created the 14-member hospital authority.
The move, he said, has been a resounding success.
"We are quite enthusiastic in our belief that the right moves were made and that the downward direction of revenues at the hospital are reversing," Kerr said Monday.
The new arrangement, he said, gives the hospital the flexibility it needs to be competitive.
"When you're going after patients in a market that's already crowded and saturated, you have to be able to make decisions quickly and, frankly, more boldly than the legislative process allows," Kerr said. "These were changes that needed to be made, and it's our impression, at this point, that the hospital is in the early stages of resurgence."
Business vs. research
But some are wondering if the hospital's quest for profits will interfere with the medical center's mission to teach and conduct research.
"I voted for the hospital authority," said Sen. Sandy Praeger, R-Lawrence, "but sometimes I worry that we may be losing sight of what the hospital is there for; it's there to provide training opportunities and environments for research, neither of which add to bottom line.
"And if we do our best to train Kansas students to be Kansas doctors, we're going to have one heck of a time recruiting them to come back here. That's just the truth."
Praeger, whose husband is a surgeon, said she's heard concerns that as the hospital continues to hire doctors and buy clinics, the teaching and research roles will suffer.
But Cumming insists that won't happen.
"One of our missions by law is to succeed in patient care in order to support the education and research missions of the university," she said.
And, she said, doctors hired by the hospital also must teach.
"The only way a doctor can practice at KU Med is to be a member of the faculty," Praeger said. "We have actively assisted in the recruitment of top faculty for the university. A successful academic medical center is a major asset to recruitment of faculty, researchers and students."
Time will tell, Praeger said.
"I just think it's important to temper all the good things that are going on at the hospital with an occasional reminder of what the overall mission is supposed to be," she said.
Copyright 2018 The Lawrence Journal-World. All rights reserved. This material may not be published, broadcast, rewritten or redistributed. We strive to uphold our values for every story published.