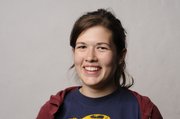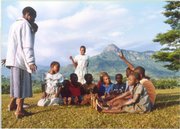 How to help
Lawrence resident Krista Jobst is having a fundraiser for Students Partnership Worldwide, an organization that teams up young adults, like herself, with those who need help in impoverished nations.
She is playing host to a dance party called Collective Consciousness, with doors opening at 9 p.m. Sept. 13 at the Granada, 1020 Mass. It will include DJ music by Kansas City radio station DJ C-Vaughn beginning at 10 p.m. DJ Ryan Epsey also will perform at the event, which will conclude at 2 a.m. Sept. 14.
Tickets will be available at the door for $10. They also may be purchased in advance by clicking on the Granada's Web site at www.thegranada.com or by stopping by its ticket office.
For more information or to donate directly to Jobst, e-mail her JobstSPW@gmail.com.
She needs to raise $6,500 to become a peer educator in the SPW program and travel to Tanzania. Donations are tax deductible.
In 1981, Morbidity and Mortality Weekly published the first account of a puzzling medical phenomenon.
A pharmacist was asked to refill a rare drug. It was the first time a doctor had asked for a refill, because patients with the disease being treated usually either were cured in one 10-day treatment or died.
After further research, this new disease was dubbed Acquired Immune Deficiency Syndrome (AIDS) in 1982.
According to a 2007 report released by the United Nations, 33.2 million people are living with HIV/AIDS, and more than 25 million people have died. Obviously, the world has an epidemic on its hands.
Students Partnership Worldwide (SPW) was founded in the UK in 1985. SPW is a nongovernmental organization that trains and mobilizes young adults, ages 18-28, as volunteer peer educators who lead programs which address the health and environmental dilemmas overwhelming Africa and Asia.
Allowing a young adult the opportunity to take on a challenge of this magnitude is an encouraging gift. A U.N.-sponsored agency is basically declaring that not only can a high school graduate travel to a far away land, learn a new language and be immersed in another culture, but they can do it all while making a great difference in the lives of others.
Today, SPW's endeavors take flight through more than 800 international volunteer peer educators, reaching 400,000 youth every year at an annual expense of $9 per child. SPW volunteers are presently operating in India, Nepal, South Africa, Uganda, Sierra Leone, Zimbabwe, Zambia and Tanzania.
¢¢¢
On a bright and cheery Saturday morning during my junior year, I had nothing to do. No work. No activities. No problem.
Except, there was a problem.
The end of second semester was drawing near and I had no clue where I wanted to go to college. High school students who wish to be eligible for financial aid and university scholarships usually need to have those applications finished before winter of their senior year. In order to fill out a college application, you need to have a college in mind.
That Saturday, I was done being indecisive. As I do to solve most problems, I went online. Instead of taking virtual campus tours, I began searching student peace programs and stumbled upon the Web site for SPW. After reading the Web site, I e-mailed SPW to ask about volunteering. An office intern e-mailed me back that day and invited me to an informational conference call.
During the call, a Harvard graduate who had spent eight months in Zambia answered questions and talked about her experiences with SPW the previous year. She said there were bugs, strange food and no toilets. She also said there was nothing more rewarding than helping others. If the Web site had not hooked me, the call would have.
Unlike most of my former classmates, I am not enrolled in college. However, I am at Strong Hall four days a week sitting in on Swahili 110 taught by Kansas University professor Ashford Njogu. Swahili is the native language to more than 5 million inhabitants of East Africa and is the second language of some 30 million. Speaking the native language will be extremely useful in Tanzania, where starting in January I will spend eight months in the Peer Education program.
The beloved juggernaut known as Facebook has allowed me to connect with other soon-to-be volunteers from Australia, New Zealand and Great Britain. Joining SPW has been an enlightening journey, and I have yet to leave the state.
Though I am a huge fan of indoor plumbing, pizza and wireless Internet, I realize there are people all over the planet who do not use, eat or log on to those things. A lot of them are perfectly happy, nonetheless.
I am also a huge fan of children, education and diversity. As an SPW peer educator, I will work with a network of volunteers in Tanzania, all moving toward positive innovation for children using untraditional education methods like art, music, drama and sports. Once there, I will go through a five-week training program.
I also need to raise a minimum donation of $6,500 for the charity. SPW finances all air travel, necessary program training, accommodations, and distributes a monthly stipend. The required donation is a chance for volunteers to spread the word about SPW and facilitate operating costs.
Family and close friends have been a solid support system throughout my journey. My parents and sister were a little skeptical about not going to college and wanting to travel to Africa for eight months, but after an understandable inquisition have been nothing but loving and helpful.
Copyright 2018 The Lawrence Journal-World. All rights reserved. This material may not be published, broadcast, rewritten or redistributed. We strive to uphold our values for every story published.