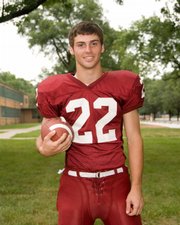 When you consider that Lawrence High senior running back Jake Green did not even play high school football until his junior year, it might make you scratch your head.
How, then, is it possible that his teammates and coaches use phrases like "Classic Lawrence High football player," and "A great Lion" to describe him?
LHS football coach Dirk Wedd has a pretty good idea.
"Jake has the advantage of being from a family that really is Lawrence High," Wedd said of the 6-foot, 162-pound tailback. "There have been so many Greens come through this place, and then you start adding all the coattail relatives and you figure that he has sat and watched a lot of Lawrence High football games."
In Green's eyes, none have been bigger than what he expects Friday at Haskell Stadium, where his Lions (3-4) play host to crosstown rival Free State (4-3) at 7:30 p.m.
The rivalry game is big each year. Die-hards go wild, casual observers show up, and even the fringe fans at each school seem to have an interest in the outcome.
This year, for Green and his family, the game will take on added meaning, as a trio of cousins - Jake Green and Mason Bertrand, at Lawrence High, and Matt Green, a senior at Free State - will go head-to-head for the first time in the game's history.
"It definitely adds some personal motivation to want to beat him," Jake Green said of squaring off against cousin Matt. "I think he's the only member of my family that's ever gone to Free State."
For as long as he can remember, Jake has been competing against Matt in some form or another. Even in their youth football days, when they were teammates playing for the Hurricanes, the two constantly tried to one-up each other in games and in practice.
Things changed shortly after that, as Jake went on to South Junior High and Matt headed to West. That's when the real battles began, clashes that didn't even cease at the Sunday family dinners at Grandma Green's house.
From childhood games to youth football and junior high and sophomore basketball, the two cousins have gone head-to-head dozens of times in their lives. Never before have the stakes been so high, and never before has Jake wanted to beat Matt so badly.
"This is a game we'd like to win," Jake said. "It's big because it's bragging rights for an entire year for our school, and for us seniors it's bragging rights for the rest of our lives."
So what if Jake, a free safety on defense, finds himself one-on-one with Matt, a wide receiver, with the game on the line?
"I'd definitely try to put him down like he's not a family member," Jake said with a sly grin.
The family ties only go so far.
So where does Mason, nephew of Matt's and Jake's parents, stand in all of this? Like Jake, he too is playing LHS football for the first time as a junior. After a slow start, the 5-foot-7, 131-pound cornerback has played his way into the starting lineup and likely will get his shot at lining up against Matt on Friday night.
"This is my first year of football," Bertrand said. "So I've never really competed against Matt but I'm definitely looking forward to it."
As for which cousin he'd bet on with the game on the line, Bertrand picked Jake.
"Because he's a teammate," he said.
Copyright 2018 The Lawrence Journal-World. All rights reserved. This material may not be published, broadcast, rewritten or redistributed. We strive to uphold our values for every story published.