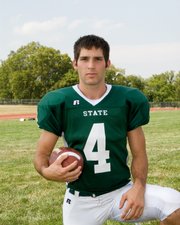 As matriarch of her clan, Mary Green fixes dinner for the whole kit and caboodle - usually around 25 family members - every Sunday evening.
"When I'm in town, I do," she said. "But when I'm not, Tracy says just leave the food there and we'll get it."
Tracy Green is one of nine children of Patrick and Mary Green, longtime Lawrence residents who live on acreage south of town.
Seven of the Green's children still live in Lawrence, including all five boys - Mike, Tim, Tracy, Mark and Doug - and daughters Debbie Crady and Marci Bertrand.
Daughters Jadene Stewart and Leslie Mumford live in Montana and New York, respectively. Leslie is married to John Mumford, the defensive coordinator for the U.S. Military Academy's football team.
So when Mary Green isn't working in her kitchen on a Sunday evening, it's usually because she's off visiting one of her girls in the Big Sky Country or on the banks of the Hudson River.
Anyway, last Sunday night was a typical gathering : except for a slight undercurrent involving grandsons Matt, Jake and Mason.
"We were a little bit more on edge than usual," Matt said.
Matt Green (Tracy's son) is a senior wide receiver on Free State High's football team while Jake Green (Mark's son) and Mason Bertrand (Marci's son) play for Lawrence High, and the 12th renewal of the annual intra-city rivalry will be Friday night at Haskell Stadium.
Matt and Jake are both seniors. During their little league days, they were teammates, but then Matt moved on to West Junior High while Jake attended South Junior High. Later, Matt matriculated to Free State High while Jake went to Lawrence High.
As high-schoolers, Matt has had all the bragging rights because the Firebirds have won the last two meetings. Not that he actually does any trash-talking.
"Me and Jake are good sports about it," Matt said. "Personally, I'm more focused on the program. Getting a three-peat for the program is more important to me."
As a wide receiver, Matt actually gave more grief to cousin Mason last Sunday night because Bertrand, a junior defensive back, may have to cover him on Friday night.
"I told him," Matt said with a smile, "I was going to give him a hard time because he'll be starting at corner."
Still, largely because they are the same age, Matt has a tighter relationship with Jake.
"He's my closest cousin," Matt said. "Obviously, seeing each other every Sunday made us close."
Those Sunday dinners also gave their parents many opportunities to take pictures, including the one on the tractor and the shot of them in the tub.
"Yeah, I've seen those pictures a few times," Matt said. "I think that's the tub that was full of toys. Every time we'd go there, we'd dump out the toys. In fact, I think I got that helmet I'm wearing on the tractor from that tub."
Matt thinks the helmet was the headgear worn by his grandfather Patrick when he was a running back at Colorado A&M; (now Colorado State) after World War II.
Mary Green isn't so sure, saying, "I think they wore leather helmets back in those days."
One thing is certain. Some of the Green clan sitting in the stands may be for Lawrence High and some may be for Free State, but all will be cheering for Matt, Jake and Mason.
Copyright 2018 The Lawrence Journal-World. All rights reserved. This material may not be published, broadcast, rewritten or redistributed. We strive to uphold our values for every story published.