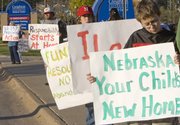 Lincoln, Neb. — Stung by the abandonment of children as old as 17 at Nebraska hospitals, the governor and lawmakers struck a deal Monday to rewrite the state's safe haven law so it applies only to infants up to 3 days old.
A rash of drop-offs in recent months, particularly those of teenagers and from out of state, thrust the state into the national spotlight. The law was ridiculed on "Saturday Night Live" last weekend.
Forty of the 49 senators in the unicameral Legislature and Gov. Dave Heineman have agreed to the changes, Speaker of the Legislature Mike Flood said during a news conference on Monday.
The state's safe-haven law allows caregivers to abandon children - interpreted by some to include those as old as 18 - at hospitals without fear of prosecution. The age cap would change Nebraska's safe-haven law from the most lenient in the country to one of the most restrictive. Sixteen other states have a similar 3-day-old age cap.
At least 18 children, aged 22 months to 17 years, have been abandoned since the law took effect in July, including a child from Iowa and a Michigan child who was driven from there by his mother.
The law, intended to prevent infants from being dumped or abandoned in dangerous places by mothers who don't want them, has had "serious, unintended consequences," Heineman said.
Flood said lawmakers would likely change the law in the first couple of weeks of the new year.
Copyright 2018 The Associated Press. All rights reserved. This material may not be published, broadcast, rewritten or redistributed. We strive to uphold our values for every story published.