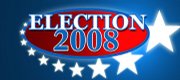 In-depth coverage of the candidates and the issues, all leading up to the Aug. 5 primary and the Nov. 4 general election.
Eligible Kansas voters have until Monday to register in their home county to be able to vote in the Nov. 4 general election.
As of the end of Friday, Douglas County had 81,208 registered voters.
The county had 77,209 registered voters for the August primary, and 65,181 at the time of the 2004 general election.
¢ To register, stop by the Douglas County Clerk's Office in the courthouse, 1100 Mass., from 8 a.m. to 7 p.m. Monday.
¢ A registration application is available online at douglascountyelections.com. Completed applications can be faxed to (785) 832-5192, e-mailed as a PDF to kcampbell@douglas-county.com, or mailed - postmarked Monday - to the clerk's office, 1100 Mass., Lawrence, 66044.
¢ Advance voting also began Wednesday in Kansas. In-person voting is available at the clerk's office. To request a mail-in advance ballot, call the clerk's office, 832-5267, or visit douglascountyelections.com.
Copyright 2018 The Lawrence Journal-World. All rights reserved. This material may not be published, broadcast, rewritten or redistributed. We strive to uphold our values for every story published.