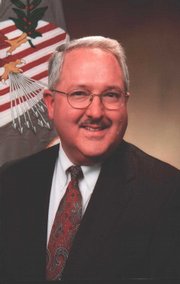 A seasoned federal prosecutor will become acting U.S. attorney of Kansas today after the current office holder, Eric Melgren, takes the oath to become the state's newest federal district judge.
Marietta Parker, who has been a federal prosecutor in Kansas and western Missouri for a combined 18 years, will oversee about 100 workers, including 45 attorneys, in the three U.S. Attorney's Offices in Kansas. Parker, who is based in Kansas City, twice served as interim U.S. attorney in the Western Missouri district.
Parker is prosecuting three federal cases against Guy and Carrie Neighbors, owners of the Yellow House Store, 1904 Mass. For nearly three years they have maintained their innocence and accused prosecutors and law enforcement of corruption.
Melgren is resigning after 6 1/2 years as U.S. attorney, spokesman Jim Cross said. He was confirmed by the U.S. Senate on Sept. 26 to be sworn in as a district judge in Wichita. He is replacing U.S. District Judge Monti Belot, who is taking senior status.
Melgren was nominated for the post in July. His confirmation was led by Sen. Sam Brownback, R-Kan., Melgren's close friend and one-time employer.
Copyright 2018 The Lawrence Journal-World. All rights reserved. This material may not be published, broadcast, rewritten or redistributed. We strive to uphold our values for every story published.