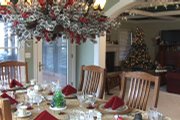 This week's "Home and Away" previews the upcoming Holiday Homes Tour with a visit to the festively decorated home of Dr. Marshall and Beth Kelley, of Lecompton.
More than a dozen decorated Christmas trees, numerous nativity sets, and a variety of holiday styles and colors are on display.
When she married Marshall seven years ago, Beth Kelley says a desire to unite their blended families led to a more "over the top" approach.
"We have a blended family, so it was important to us to establish some new traditions," says Beth, who combines commercial decor with sentimental family keepsakes.
The home features suspended boughs of greenery in the foyer, and Santa is the dominate theme in the adjoining sitting room. An upside-down Christmas tree adds whimsy to a stairway landing.
The Holiday Homes Tour, benefiting Health Care Access, is Dec. 7. See more information at www.healthcareaccess.org.
"Home and Away" premieres at 6:30 p.m. Mondays on Sunflower Broadband Channel 6 and is replayed throughout the week.
Copyright 2018 The Lawrence Journal-World. All rights reserved. This material may not be published, broadcast, rewritten or redistributed. We strive to uphold our values for every story published.