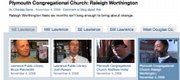 Voters throughout Douglas County share their Election Day thoughts.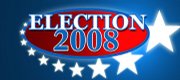 In-depth coverage of the candidates and the issues, all leading up to the Aug. 5 primary and the Nov. 4 general election.
Photo Gallery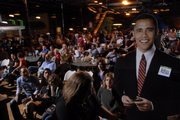 Election night in Lawrence
-->
-->
-->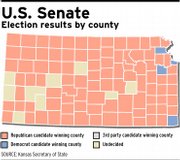 State Sen. Marci Francisco, D-Lawrence, on Tuesday easily won re-election to a second four-year term, fending off a challenge from Republican Scott Morgan.
Francisco defeated Morgan, a Lawrence school board member, 62.3 percent to 37.7 percent in the Senate District 2 race.
"I think people reacted to a positive message," said Francisco.
"I'm glad it's over," said Morgan. "I wish her the best. It's clear that she is doing a good job, and it's what Lawrence wants. She has a tough job ahead of her and we all hope she does well," he said.
During the last legislative session, Francisco was a strong opponent of the two 700-megawatt coal-fired power plants proposed for southwest Kansas, while Morgan said he didn't know how he would have voted on the issue. He said he could have supported the project as part of a comprehensive plan that also pushed renewable energy.
Morgan had criticized Francisco, saying that she didn't adequately represent the district because she had voted "pass" 50 times, which, according to his research, was more than twice as many "pass" votes as the next senator.
But Francisco, a former Lawrence mayor, defended her voting record, saying her "pass" votes were essentially "no" votes because it takes 21 "yes" votes in the 40-member Senate to approve a bill. Francisco said she has voted "pass" sometimes to raise concerns from her district and indicate to others that she may be willing to negotiate for something her constituents want.
And Democrats claimed that Morgan's basic premise was flawed because many of the "pass" votes he cited in a campaign commercial he got wrong.
Francisco said energy will be a top issue in the next legislative session that starts in January. "Clearly, there is an opportunity to look at the energy plan for the state, and it needs to include energy efficiency, and wind and solar," she said.
Copyright 2018 The Lawrence Journal-World. All rights reserved. This material may not be published, broadcast, rewritten or redistributed. We strive to uphold our values for every story published.