Related document

No tuition increase for four years ( .PDF )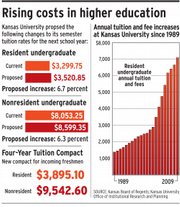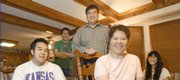 In the past five years, tuition at Kansas University has doubled. It's gone up far faster than inflation, income and even the housing market. The LJWorld takes you beyond the numbers as it looks at the students and parents who have to pay for school and the professors that are made possible through the increases.
Other increases
Each state university proposed tuition increases of varying sizes. Below are the range of percentage increases for each university. The largest increase percentages are generally for nonresident undergraduate students.
¢ Emporia State, 4.9 percent to 6 percent
¢ Fort Hays State, 5.5 percent
¢ Kansas State, 1.9 percent to 7.4 percent
¢ Pittsburg State, 5.7 percent to 5.8 percent
¢ Wichita State, 5 percent to 5.9 percent.
Topeka — For the first time, Kansas University tuition and required fees next year could cost at least $7,000 for every student.
In proposing new tuition rates to the Kansas Board of Regents on Thursday, KU requested an 8.4 percent increase to its compact tuition rate - the rate paid by the incoming freshman class - and a 6 percent increase to all noncompact tuition rates. Those rates are paid by juniors, seniors, transfer students and graduate students.
The regents will act on the request at its June meeting.
"We are right smack in the middle of the Big 12," KU Chancellor Robert Hemenway said. "There are five Big 12 institutions that are higher and five that are lower."
He omitted private Baylor University, which charges higher tuition than all other conference schools. Hemenway also noted that tuition covers only 50 percent of the cost of providing an education for a Kansas student.
The balance is covered by state funds, research dollars, student fees and out-of-state students, who pay 130 percent of the cost of their education.
In addition to the 6 percent tuition increase, there was a 6 percent increase for course fees and a 12.1 percent increase of required campus fees - however, those fees are set first by Student Senate before going to the regents for approval.
KU also sought approval to implement a $25 course fee for the School of Social Welfare. If approved, only the College of Liberal Arts and Sciences will offer tuition at the base rate. Course fees are retained by the school that charges it.
The 8.4 percent increase to the tuition compact rate is based on individual increases that other students would pay over four years and averages out to a 7 percent annual increase. The tuition compact front-loads the rate to provide predictability.
The regents asked several pointed questions of KU leaders, including why their compact tuition rate increase was 2 percentage points higher than the inflation rate when KU based last year's increase on that inflation rate.
"I think we saw today examples of the complexity of this discussion," regents chairwoman Christine Downey-Schmidt said. "I think we're seeing some logical fallout from the difference between the governor's budget request and what the legislature approved."
The notion of charging more tuition because the legislature didn't approve the desired level of tuition increases didn't sit well with all regents, though.
"Do you think it pressures the legislature that every time they don't fund something, we'll pass it along to students?" regent Gary Sherrer asked.
Regent Donna Shank also objected to several university presidents who said they were going to revise their increase proposals because of the lower-than-expected appropriation.
"This isn't money that was taken away from you; this is money you never had," Shank said. "We're still getting more money; it's just not as much money as perhaps we might have all wanted."
Increases at the other five state universities ranged from 4.4 percent for resident undergraduates at Emporia State to 7.2 percent for juniors and seniors at Kansas State. K-State is beginning a process this year that will see students pay a higher rate for junior and senior classes than they do for freshman and sophomore classes.
Copyright 2018 The Lawrence Journal-World. All rights reserved. This material may not be published, broadcast, rewritten or redistributed. We strive to uphold our values for every story published.