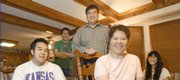 In the past five years, tuition at Kansas University has doubled. It's gone up far faster than inflation, income and even the housing market. The LJWorld takes you beyond the numbers as it looks at the students and parents who have to pay for school and the professors that are made possible through the increases.
Some time Thursday morning, if all goes according to plan, the Kansas Board of Regents - and regular Kansans - will get their first look at what state universities plan in the way of next year's tuition increases.
Each year at this time, the regents begin a process of reviewing tuition proposals. They're then voted upon at the June board meeting. This year, however, the regents started the process in February with a long discussion on whether tuition should be allowed to increase or if by only a certain amount.
They ultimately decided to take no action, but left the unmistakable impression they would look disapprovingly on increases of more than 6 percent. Immediately after that meeting, KU Chancellor Robert Hemenway pledged that KU's tuition increase proposal would be less than 6 percent.
KU spokeswoman Jill Jess declined to elaborate on what KU's tuition proposal would be.
"The first public discussion of KU and other regents institute's tuition proposals will be before the regents next week," Jess said Friday.
Late last month, however, the provost's advisory committee on tuition recommended a tuition increase of 6 percent. That recommendation, however, is one piece of information used by Provost Richard Lariviere and Hemenway in making their recommendation to the regents.
This year's tuition proposals have drawn increased scrutiny because of the major increases that Kansans have endured in recent years.
In 2000-01, resident tuition and fees to Kansas University totaled $2,725 per year. By the 2006-07 school year, that same price tag had climbed to $6,153, a 125 percent increase.
That's juxtaposed against incomes for Kansas families that have inched upward at a much slower rate. According to the U.S. Census Bureau, the median family income for a family of four in Kansas was $56,784 in 2000. By 2006, that figure had increased to just $67,897, a 19.5 percent increase.
The regents will take up the tuition proposals beginning about 9:30 a.m. Thursday in the regents board room of the Curtis State Office Building in Topeka. The tuition and fee proposals are listed as the second item on the discussion agenda.
Copyright 2018 The Lawrence Journal-World. All rights reserved. This material may not be published, broadcast, rewritten or redistributed. We strive to uphold our values for every story published.