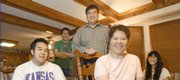 In the past five years, tuition at Kansas University has doubled. It's gone up far faster than inflation, income and even the housing market. The LJWorld takes you beyond the numbers as it looks at the students and parents who have to pay for school and the professors that are made possible through the increases.
Topeka — The size of the next tuition increase could depend on what lawmakers do with higher education funding when they return for the wrap-up session.
"We are trying to be able to provide : a quality education but at an affordable price for students and parents, and that is certainly going to take their (lawmakers') help," said Kansas Board of Regents Chairwoman Christine Downey-Schmidt.
Kansas University and the five other regents universities are preparing tuition-increase proposals for the fall semester. The regents have told the schools to keep increases down after five years of annual double-digit percentage increases.
The Legislature returns for its wrap-up session April 30.
Budget-writing committees start meeting today to craft a final spending plan for the fiscal year that starts July 1.
Higher education funding is one of the main areas of concern.
During the regular legislative session, lawmakers approved a $10 million increase in the operating grant given to post-secondary institutions.
Gov. Kathleen Sebelius had proposed a $35 million increase, but about $15 million of that was tied to a pay raise to state higher education employees. Lawmakers are still negotiating the pay raise.
Essentially, Sebelius proposed a $20 million increase to higher education schools for their operating budgets. The Legislature has come through with half of that amount while promising to consider the other half during the wrap-up session.
Recent developments have put that remaining $10 million in play.
Last week, state budget experts projected that revenues coming into state coffers will be $130 million less than estimated. That is because of the federal tax cuts, which are tied to state tax rates, and lower interest rates that will reduce earnings on state reserve funds.
In addition, the costs to cover social service programs for the current and next fiscal years have been re-estimated to be approximately $30 million more than anticipated.
That means lawmakers are headed into the final budget phase with an eye toward more tightening.
"It is obvious we have more difficult spending decisions to make as we finalize the Omnibus budget in the coming weeks," House Speaker Melvin Neufeld said. "Each aspect of our budget will need to be scrutinized to ensure accountability and responsible spending."
Impact on tuition
KU Chancellor Robert Hemenway said university officials will monitor lawmakers' discussions in light of the new revenue projections.
The Legislature's decisions could have an impact on tuition, which has become a sore spot in recent years. In February, the regents signaled it would not accept tuition increases of more than 6 percent, citing concerns that previous years' hefty increases were making college too expensive for many students.
Last week, the regents directed university chiefs to use Sebelius' recommended funding level when calculating tuition increases. The schools' tuition requests will be considered by the regents starting in May.
Downey-Schmidt, the head of the regents and a former state senator, said she hoped lawmakers would embrace Sebelius' proposed funding increase during the wrap-up session. But she said she also realizes the Legislature has many other funding requests.
"It will be a process of balancing the needs and priorities, as it always is," she said, "but we will continue to make the case that the preparation of students is the fuel for the economic rebound."
Copyright 2018 The Lawrence Journal-World. All rights reserved. This material may not be published, broadcast, rewritten or redistributed. We strive to uphold our values for every story published.