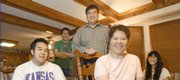 In the past five years, tuition at Kansas University has doubled. It's gone up far faster than inflation, income and even the housing market. The LJWorld takes you beyond the numbers as it looks at the students and parents who have to pay for school and the professors that are made possible through the increases.
Twice a year, a $60 million deposit is made into Kansas University's bank account.
It's not really one big deposit, but rather many smaller deposits - deposits from students and families in Kansas, across the nation and even around the world.
They're also deposits that are getting bigger. In the past five years, in-state tuition at KU has doubled. Almost exactly, in fact.
Tuition was $2,921 in 2002 and has risen by $2,923 in the past five years. In the past 20 years, tuition has increased more than fivefold.
Tuition also is rising much faster than inflation, which has a 20-year rate of about 80 percent. And it's far outstripped the increase in per capita income in Douglas County, which has roughly doubled since 1987.
Numbers, however, tell an incomplete story.
They don't tell the story of the KU professor who is doing potentially life-changing research in a job funded by tuition revenues.
And numbers don't describe the difficulty a Lawrence family faces, having lived through large, annual tuition hikes, in putting three children through Kansas universities.
On Wednesday, the Kansas Board of Regents once again will wrangle with the tuition issue. As they do, they'll focus on stories they've heard from friends and acquaintances who struggle to pay for college - and on the stories of people who've determined college is financially out of reach.
Last month, several regents said they want a thorough discussion about this year's tuition proposals. On Wednesday, they will meet and decide whether there is to be a rate freeze or a rate cap. Or perhaps they'll decide that, while desirable, it's just not possible to limit tuition.
The discussion
Regent Gary Sherrer, who questioned tuition increases last month, wants a tuition cap. That limit would be set before universities take their proposals to regents this spring.
"I just happen to believe the more expensive it gets, the more doors that get closed to people," Sherrer said.
Six consecutive years of large tuition increases and a slowing economy combined to persuade Sherrer it's time to hold the line - at least for a year.
"If the economy changes, the issues may change," he said.
It's not just KU that has seen major cost increases. Kansas State has virtually matched KU's increases percent for percent, and the other state universities have enacted hefty increases of their own.
Regent Jill Docking, who also works for an investment firm, said she wants to know - specifically - what the universities must cut if tuition were capped. She also wants information on just how much of a problem rising tuition is for students and their parents.
"I don't think it's fair to have a decision made : without hearing from the universities, and we really haven't heard from the schools," Docking said.
Even the best-laid plans ...
As a certified financial adviser, John Oberzan started saving for his children's college education when they were toddlers. He put aside money, anticipating education costs rising twice as fast as inflation.
Still - with a son finishing his fifth year at KU, a daughter who is a KU sophomore and another daughter who is a high school senior - the Lawrence dad is suffering a bit from sticker shock.
"You try to plan for their education when they were small," Oberzan said. "But yet when you have a series of increases that close together, it can throw a wrench into the best planning. You have to make adjustments."
His son works while going to school. His daughters have earned scholarships.
And Oberzan has dipped into investments he'd hoped to spend in retirement.
Today's costs are a far cry from when Oberzan went to KU in 1965 on what he jokingly refers to as the Sunflower Army Ammunition Plant Scholarship. In actuality, he spent his summers working there, and it was enough to pay his way.
Faced with at least four more years of college bills, Oberzan said, he just hopes tuition increases will slow down.
"It seems disappointing to me that the state Legislature hasn't seen the importance of education and providing more funding for universities. So therefore (the universities) turn around and have to increase tuition and they put it on the backs of students, making them borrow more money, or their parents who have to pay tuition," he said.
The payoff
All those higher tuition payments don't just go up in smoke. Kansas State President Jon Wefald said last month that Kansas universities had to make a choice between mediocrity and excellence.
"We've chosen excellence," he said.
That was the same refrain when KU started its "Tuition Enhancement Plan" more than five years ago, a plan that accounts for the lion's share of the large increase.
And it's a plan that brought Paulette Spencer to KU. Spencer, a university distinguished professor and director of the new bioengineering research center, wants to determine why artificial tissue fails so much more quickly than natural body tissue.
"Anytime we put a synthetic or a tissue-engineered material against the normal, biological material, where the failure occurs is at the interface between those two constructs," she explained. "It's the same as all the roadway surfaces, actually. As soon as they start a repair, where does the next pothole form? Right there."
Spencer's new lab will rival any lab across the country, she says. And she intends to bring in students of all levels - undergraduate, graduate and post-graduate - to look at how to build better biological tissue.
More importantly, she says, transferring the techniques and technology she develops in the lab to industry will be a major goal of her work.
"One of the things we'll make available to (students) is really state-of-the-art instrumentation," Spencer said. "In addition, through this relationship of interacting effectively with industry, they will have an opportunity to interact with potential employers."
Working overtime
When it comes to tuition, Andrea Cassell has two goals: She doesn't want to go in debt, and she doesn't want her freshman daughter at KU to work while going to school.
Those two objectives have Cassell putting in long hours as a tutor for special-needs students, skipping the coffee shops and nail salons and budgeting every dollar she has.
"Education is key to everything in life," she said.
Divorced from her daughter's father, the Wichita mom must pay for her youngest daughter's education.
Seven years ago, Cassell started saving. And when she realized she wasn't going to be able to put enough money away as a special education elementary school teacher, she quit her job and started working as a private tutor. She doubled her salary by working far more than 40 hours each week.
Still, Cassell is struggling and doesn't have four years of college covered. And it's not just tuition. Books, housing and groceries also have Cassell scrambling.
"I do think there comes a time when the system has to say, 'OK, we need to cap this for all the universities and make it affordable until things change,'" she said.
Stuck in the middle
The Kong family is stuck squarely in the middle class - and smack in the middle of paying for their three children's college education.
Man Kong is an electrical engineering and computer science professor at KU. Sue Kong is a medical technologist at the Internal Medicine Group. They have three children: Andrew, a junior at KU; Amanda, a senior at Free State High School; and Alex, a freshman at Southwest Junior High.
They earn too much money to qualify for significant financial aid, but not enough to have set aside money for tuition.
"When you are in the middle, it is just really difficult," Sue Kong said.
The Kongs had started saving accounts for each of their children, but, as the children grew, the money was needed for more urgent bills.
And the couple haven't factored in the ever-increasing price tag of a college education.
"I hadn't thought about how expensive it would be and how much of a tuition hike (there was) from the time I graduated," Sue Kong said.
So far, much of the money they have saved has gone to Andrew.
So they are crossing their fingers that scholarships - maybe even a full ride - will come in, especially for the youngest. The other alternative is taking out loans.
"We are trying to help each kid along and hope that they could get through the first four years without having them carry much loan," Sue Kong said. "It would be a great stepping stone for them to come out of college and just go into a job without having to pay all these college debts."
Copyright 2018 The Lawrence Journal-World. All rights reserved. This material may not be published, broadcast, rewritten or redistributed. We strive to uphold our values for every story published.