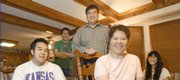 In the past five years, tuition at Kansas University has doubled. It's gone up far faster than inflation, income and even the housing market. The LJWorld takes you beyond the numbers as it looks at the students and parents who have to pay for school and the professors that are made possible through the increases.
Topeka — Kansas University Chancellor Robert Hemenway pledged Wednesday to cut back on tuition increases.
After two and a half hours of discussion on whether to limit next year's tuition increases, Hemenway said KU's proposal would include a less than 6 percent increase.
But promises, like Hemenway's, were all the regents could muster from the state's university presidents. No one could agree on a limit to the increases.
Ultimately, the regents adopted a resolution that encouraged universities to bring tuition proposals with increases "well below" those of recent years.
When KU approved its tuition compact last year, it projected annual tuition increases of 6 percent for the next four years, after just finishing five years of double-digit increases. Hemenway said the weak economy weighed heavily on his pledge.
"We live in an ever-changing world. It's a different world than it was last summer," Hemenway said. "We want to take (the economy) into consideration."
Students who came in under last year's tuition compact will see no change in the amount they pay.
The agreed-upon resolution passed with seven votes in favor and two votes against. In approving that resolution, all regents said they'd vote against a tuition increase that was more than 6 percent, but they wanted to leave themselves open to being persuaded otherwise.
"What we need to do, instead of having some sort of cap, is to think reasonable," regent Dan Lykins said. "They're going to think reasonable because they know that's what we're thinking."
Kansas State University President Jon Wefald said he was committed to bringing a tuition proposal with an increase of about 1 percent above higher education inflation, which was 3.4 percent last year, assuming legislative support remains the same.
A promise alone wasn't enough for regents Gary Sherrer and Donna Shank, who seek to curb the climbing tuition costs.
"I think I'm about to have a Pyrrhic victory," Sherrer said as the discussion began. "I'm going to get praised as the truck runs over me. I guess there'll be some satisfaction in that."
Sherrer introduced the first resolution, which would have capped tuition increases at 5 percent, which would be the amount of inflation in higher education plus 1.6 percent. It would be the same amount of an increase requested from the Legislature. His resolution failed, two votes to seven.
An amendment that would have set a limit at 6 percent was introduced and seemed to have the support of three regents - Lykins, Christine Downey-Schmidt and Bill Thornton - but no vote was taken.
"As a body, we said if you (the Legislature) give us (higher education) a 5 percent increase, we have adequate resources to run excellent universities," Sherrer said in explaining why he would not support a 6 percent cap. "I don't understand why we think we can do more than that to students."
Rather than support the nonspecific motion or offer an amendment of her own, Shank echoed Sherrer.
"At this point, I think I'll leave it alone and say the truck only hurts for a little while," she said. "It will go away."
Copyright 2018 The Lawrence Journal-World. All rights reserved. This material may not be published, broadcast, rewritten or redistributed. We strive to uphold our values for every story published.