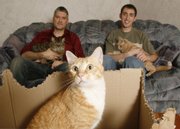 Wichita — Here's how you become a famous international celebrity nowadays: You give people what they want.
What they want is cat yodeling.
Cat fighting.
Cat performance art.
Paul Klusman, a 39-year-old cat-loving aerospace engineer from Wichita, recently launched a carefully engineered plan to become a celebrity.
He succeeded. A few weeks ago, a silly video he created exploded on YouTube.
"An Engineer's Guide to Cats," which makes deadpan fun of engineers and cats, has drawn 2.25 million views on YouTube so far, 1.3 million on Yahoo, and became, for several days, the top site copied and shared on YouTube. Klusman stars, with his wordless co-star, engineer T.J. Wingard.
The cats are the real stars.
In the video, Klusman's fat cat Zoey, along with her slim sidekicks Ginger and Oscar, yodel repeatedly, tear boxes to pieces, create performance art, fight (playfully), and allow themselves to be examined with a tape measure by a straight-faced Wingard, all this accompanied by Klusman's engineer-monotone narration:
"Zoey measures 17 by 10 inches, which gives her an aspect ratio of 1.70, and a large internal volume," Klusman intones.
Oscar, in contrast, "measures 19 by 8 inches, with an aspect ratio of 2.38 that gives him less wind resistance and superior leaping ability."
Klusman is getting proposals from filmmakers interested in marketing more of his ideas. He and Wingard, who works in the cubicle next to Klusman's at Spirit Aerosystems, are getting proposals from cat-loving ladies worldwide.
"OMG will you marry me?" one wrote.
"Paul is the George Clooney of engineers," another wrote.
Others sent "extremely interesting" photographs of themselves, Klusman said.
Meow.
Becoming a celebrity was not the real goal, said Klusman, who in person is quiet, courteous and self-mocking. The real goal: making feature films.
Klusman has in recent years taken other film creations to film festivals, without luck.
He posted the seven-minute "Engineer's Guide to Cats" in February. He'd worked on it for weeks. The fight sequence (two cats playfully fight) took two weeks.
"I sat around the house day after day, with a fully charged battery, with the video at a blank spot, waiting for the cats to go."
All that for 25 seconds of fight scene.
For weeks after he posted it on YouTube, "Guide" got no audience.
He realized his title might be at fault. "Few people might be out there searching for engineers and cats."
So he excerpted a section in which he gently prompted his cats to "yodel" and posted that on YouTube, under the title "Funny Cat Yodeling."
He linked to the main video.
"A few days later, I saw that it had 1,000 hits. Sometime that afternoon, 3,000. By evening, 6,000. It exploded."
He could not be happier for Zoey, Ginger and Oscar, strays he rescued. He rescued others, some starving. "One of the worst things about Wichita is that when people leave their apartment, they abandon their cats. I've rescued several outside apartment buildings."
If his filmmaking ambitions sound lofty, consider this: Klusman flies his own plane, plays blues guitar and dances swing, ballroom and Salsa. He's good enough to teach dance, including to ladies. "A good way to get their phone numbers," he said.
He hopes to become a world-class Salsa dancer.
Copyright 2018 The Associated Press. All rights reserved. This material may not be published, broadcast, rewritten or redistributed. We strive to uphold our values for every story published.