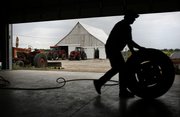 It's a dilemma for farmers.
Rain is necessary to grow crops, but the heavy rainfall this season is crippling the region's corn, soybean and wheat crops.
Farmers were delayed by about a month in planting corn; some soybean planting hasn't started, and the lack of dry weather means this year's wheat crop is in danger.
Even fescue and alfalfa have suffered.
"If you could get 10 days with no rain whatsoever, you could put a smile on a lot of guys' faces," said Bill Wood, agricultural extension agent with K-State Research and Extension in Douglas County. Many farmers are comparing this spring to 1993, a year that saw flooding cripple crops.
The rain has soaked fields, making it difficult for farmers to run machinery in the mud, and hail has damaged corn and wheat.
Farmers are frustrated.
"We need moisture, but it needs to be a timely deal. That's what's hurting us this year," said Jim Neis, who has corn, soybeans and wheat on his farm south of Eudora.
"The rain's just everywhere," said Stephen Kalb, who also farms wheat, corn and soybeans on 2,500 acres near Baldwin City and Ottawa. His corn fields near Ottawa flooded and he is not expecting any yield from his bean crops. "The damage is done."
June rainfall up
While rainfall for the year is about average, according to 6News chief meteorologist Jennifer Schack, the Lawrence area reached its average precipitation for June, 5.63 inches, by the eighth day of the month. To date, more than 7 inches of rain has fallen on the area in this month.
The rain has been persistent. From May 21 to June 13, there were 15 days with a trace amount of rainfall; in the first 12 days of June, seven of them saw rain. Add those numbers to a winter that saw more than twice as much snowfall as the last two winters combined - preventing farmers from applying fertilizer - and farmers have a sum for their troubles.
"The potential is there for us to be extremely profitable this year, but someone upstairs said, 'Whoa, boy, let's keep them in check,'" Wood said.
He said corn should be neck-tall by now, but in many cases, it is just knee-high.
"The weather has just put us way behind in our growth stage," he said. Corn needs heat to thrive, he said, "and we've not had that. We've had cool soil, cool temperatures, cloudy days," which stunts the growth of corn.
Farmers are experiencing the same consequences from weather as farmers across the Midwest, though flooding and tornadoes in other parts of the region have damaged crops far worse than here.
Record prices for corn and soybeans are some consolation, but if the yield isn't there, the high prices are almost irrelevant.
"We always like to have bushels, rather than just a good price," Kalb said.
Soybeans suffering
Because of the delayed corn planting, soybeans are behind.
Wood said some farmers had yet to plant the beans, calling it a wait-and-see situation: Wait until July; see in the fall.
"They'll hope for something, depending on the fall," he said. If an early frost hits, the soybean crop will be ruined.
Neis said the late planting means that he and others will be praying for cooler than normal temperatures later in the summer.
"We hope that it's early enough that the heat in August doesn't cause the blooms to fall off," he said. "With the high prices this year, we all need a bumper crop to pay for all the expenses," like fuel and fertilizer.
Wheat woes
Wood said farmers would know more about the wheat crop by early July, but he expected a poor showing for the crop, which is usually harvested in the last weeks of June.
"The wheat has really gone downhill in the last week, just from wet weather," Wood said. Wet weather causes leaf diseases, while waterlogged soil drowns plants.
Kalb said he expected a 50-percent yield loss in some of his fields.
"We had the potential for some pretty better-than-average wheat, but it rained so much, it knocked the bloom off of the wheat," he said.
Neis said he had found fungi growing on his wheat. But muddy ground means that farmers can't bring heavy equipment into the fields, compounding the problem.
Kalb said he hadn't been able to spray his wheat for two weeks.
"That's a long time," he said.
Wheat may be a lost cause.
"I'm afraid it's too late to help," Neis said.
Insurance provides some relief
Many farmers take the added measure of insuring their crops for instances like this, Wood said.
"It'll be all right, because as prices are high, that makes our crop insurance higher," Kalb said. "We're going to cover our costs this year and do better, but we want to raise our crop."
Normally, insurance doesn't cover the entire crop, Wood said. Rather, farmers often look to recoup the costs of preparing for the harvest season.
"That means all their time and effort ends up at $0 per hour for all their work in the winter," he said.
But farmers know that they can't control the weather. They have to adapt.
"It's a pain in the butt, but I'd rather have it too wet than too dry," Neis said. "At least when it's wet, we can raise some plants."
But they'd like some kind of relief from the rain.
"There's no light at the end of the tunnel," Neis said.
Copyright 2018 The Lawrence Journal-World. All rights reserved. This material may not be published, broadcast, rewritten or redistributed. We strive to uphold our values for every story published.