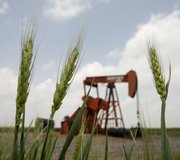 Wichita — Farmers across the heartland, who once watched as their livelihoods withered under drought and market glut, are now cashing in on a rural economic boom driven by soaring commodity prices for the crops and oil that come from their land.
"One of the best ways to describe the current rural atmosphere is something akin to a gold rush - I've never seen anything like this - especially with the oil influence," said Lane County grain grower Vance Ehmke.
Not only are farm incomes up, but oil drilling also is enjoying a renaissance. In Kansas, most wells are stripper wells with low production that in the past were often unprofitable to develop - until now, amid skyrocketing gasoline prices.
"Those guys are out here trying to feverishly stake their claims and then get to work as fast as possible," Ehmke said. "But even just farmers are excited about growing crops - trying to cash in on the high prices as fast as they can. It's just incredible."
Farmers' incomes up
From the vast winter wheat fields to the oil wells that dot the Kansas countryside, the nation's rural economy is basking in newfound prosperity. And now to make life even sweeter for growers is the $290 billion farm bill with new and bigger subsidies.
Farm equipment dealers have sold out their new equipment, and good used farm equipment is hard to find. Farm loan delinquencies are at historically low levels, with some producers using their own cash rather than taking out operating loans. Farmers are incredulous at the skyrocketing prices of corn, soybeans, wheat and sorghum.
Drilling crews are a common sight in many small towns across the state - buying food, fuel and motel rooms. And with oil prices at record highs, those farmers with wells on their property are enjoying fatter monthly royalty checks, too.
Gove County farmer Rod Bentley paid cash last year for the half section of land he had been renting since 1942, using royalty money from his oil wells to help pay for it. "I have been blessed," he said.
The extra oil income is welcomed by farmers like Bentley, 86, who grew up during the Great Depression and has been farming since returning from World War II. He now owns close to 9,000 acres - most of it in grass except for the 2,000 acres he farms - and has 11 wells on his property.
"It has made it a lot better for us to enjoy farming - it helps to pay the bills, and it helps every place you can think of," Bentley said of the wells. "We are very fortunate to have that as a side income. It has made a big difference."
Looking for more oil
At the Kansas Corporation Commission, the pace of drilling-intent permits this year is already outpacing numbers from a year ago, said production superintendent Steve Bond.
In April the agency recorded 545 drilling intents in Kansas, compared with 543 the previous month. Last year the average was 430 a month, totaling 5,161 for 2007.
Drilling activity is especially lively in oil-rich Kansas counties like Ellis, Russell, Clark and Barber, as well as in counties around the Hugoton natural gas fields in far western Kansas and the methane fields in southeastern Kansas, Bond said.
Overriding President Bush's veto, Congress on Thursday enacted a massive five-year bill as farm-state lawmakers argued the subsidies were needed to protect farmers who face the risk of crop ruin from droughts and other calamities.
Bush had claimed the farm bill was too expensive and too generous with subsidies for farmers who are enjoying record high prices and incomes.
'A good year'
Scott City accountant Rohn Shallenberger said that between high grain prices and oil royalties, his farm customers are "cautiously optimistic."
But he was quick to note that 90 percent of farmers sold their crops last year in the $5.50 to $6 per-bushel range - when three months later they could have been selling at $11 a bushel. Commodity traders were the ones who made the most money, he said.
Farmland values have boomed, with cropland values roughly 20 percent above a year ago, the Federal Reserve Bank of Kansas City reported in its first quarter survey of agricultural conditions.
The agency also said farmers are using more cash to finance capital investments, with bankers reporting soft loan demand. High loan repayment rates, fewer extensions and slow loan demand has freed up additional funds for farm loans. Loan delinquency rates also are at historically low levels.
The FSA - widely known as the lender of last resort for struggling farmers - has seen demand for loans decrease by $9 million in Kansas, from $64 million last year to $55 million this year.
"The farmer is having a good year for 2008," Bentley said. "It will go down as one of the banner years for western Kansas agriculture."
Copyright 2018 The Associated Press. All rights reserved. This material may not be published, broadcast, rewritten or redistributed. We strive to uphold our values for every story published.