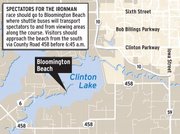 Past Event
When: Sunday, June 15, 2008, 7 a.m.
Where: Clinton Lake Marina, Lawrence
-->
-->
The action is at Clinton Lake today.
More than 4,000 spectators are expected to descend on Clinton Lake State Park this morning for Ironman 70.3 Kansas, a triathlon involving more than 1,000 athletes.
Tom Ziebart, co-director of the race, said spectators should head toward the water for the best view.
"The beach is where everything is. The swim starts and finishes at the beach," Ziebart said. "The transition is in the parking lot next to the beach. The finish line is probably 100 feet away from the beach. So, go to the beach."
Participants will swim 1.2 miles, bike 56 miles and run 13.1 miles.
The race starts at 6:45 a.m., and spectators should get there early.
"If you can get there by 8 a.m., you can still get into the park," Ziebart said. "If you're later than that, the road closes, because the bikes start coming back."
Spectators heading to the park in the morning must enter from the south on County Road 458. The northern section of County Road 458 will be closed between 7:10 a.m. and 9:30 a.m.
Shuttles, which will run every 20 minutes between 8:45 a.m. and 11:45 a.m., will give the public access to the Iron-Cross, the best spot for watching the bike course.
Organizers also suggest that observers be prepared for a day outdoors. The recommended supply list includes a lawn chair, insect repellent, cash for food and drink, a hat, sunglasses, a beach volleyball, cowbell, and signs to cheer on the athletes.
And spectators also should prepare with sunscreen, coolers, and other must-haves.
"Bring plenty of water," Ziebart said. "It's going to be hot out there."
For those who pack their bags and make the trek, the event won't disappoint, said Bob Sanner, sports director for the Lawrence Convention and Visitors Bureau.
"The way that the Ironman series produces an event at the beginning of the race you'll probably think you're at a rock concert," Sanner said. "It's just a lot of energy, a lot of excitement."
Copyright 2018 The Lawrence Journal-World. All rights reserved. This material may not be published, broadcast, rewritten or redistributed. We strive to uphold our values for every story published.