Hemenway asked about tuition increase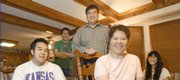 In the past five years, tuition at Kansas University has doubled. It's gone up far faster than inflation, income and even the housing market. The LJWorld takes you beyond the numbers as it looks at the students and parents who have to pay for school and the professors that are made possible through the increases.
Topeka — The state Board of Regents on Thursday approved tuition and fee increases at Kansas University and other public colleges, but several regents said they feared students were being priced out of an education.
For KU, the incoming freshman class will see a 7.6-percent increase in the tuition compact rate. Under KU's 1-year-old tuition system, each group of freshmen will see a new increase that will remain locked in for four years.
For non-compact students - juniors, seniors, transfer students and graduate students - tuition will increase 6 percent, according to the regents action.
The increases take effect this fall.
Students at the KU Lawrence campus seemed resigned to the increases.
"The school will need more money," said Jenny Mohwinkle, a senior from Topeka. "The tuition will be raised at some point. It's a necessary evil."
Marla Gerber of Ingalls, who is the parent of a KU graduate, a KU senior, and a son who will start at KU in January, said the increases were probably warranted. "We pay dearly, but we feel it's worth it," she said.
Combined with fee increases, the tuition compact rate represents an 8.1-percent increase, according to the regents. KU officials say the increase is smaller - 6.7 percent - because fees will increase for last year's group of freshmen, thus reducing the gap between what the two groups will pay.
For non-compact KU students, the combined tuition and fee increase is 6.7 percent for resident students and 6.3 percent for non-residents.
Bottom line - incoming freshmen who are Kansas residents will pay $3,862 per semester, which is $244 more than last year's group of freshmen. Non-compact, resident undergraduates will pay $3,520.85, which is a $221 increase.
Increases at other regents schools were in a similar range, including 6.3 percent for resident undergraduates at Kansas State University; 5.8 percent at Wichita State; 5.3 percent at Emporia State; 6.5 percent at Pittsburg State; and 5.5 percent at Fort Hays State.
Approval of the costs followed a long discussion.
Several regents spoke against the increases, saying they would prevent talented Kansas students from attending college.
"We cannot take the public out of public education," said Gary Sherrer of Overland Park. "At what point do we say enough is enough?" asked Janie "Juana" Perkins of Garden City.
But others said they were forced to shift the cost to students and parents because the Legislature has reduced the state's share of funding higher education.
Even so, Sherrer argued, because of bad economic times, it would have sent a reassuring signal to Kansas families "to take a breather" on tuition increases. From 2002 through 2006, the regents approved double-digit increases each year as a strategy to improve schools and faculty salaries.
Chairwoman Christine Downey-Schmidt of Inman said she hadn't seen evidence that students were being prevented from attending a regents school because of the increasing cost of tuition. She said more study needed to be done on the effect of recent tuition increases, and the reasons for rocketing student debt.
And other regents said the schools were aggressively providing scholarship funds to those who need it.
Only Sherrer voted against all the increases, while Perkins and Donna Shank of Liberal joined him in voting against the KU increases.
KU Chancellor Robert Hemenway acknowledged the regents' concerns.
"The board is sending the proper signal, we've got to find a way to better fund higher education in Kansas," Hemenway said. Even so, he argued, KU costs remain in the middle of the pack of Big 12 schools and in the lower portion of peer universities across the country.
Copyright 2018 The Lawrence Journal-World. All rights reserved. This material may not be published, broadcast, rewritten or redistributed. We strive to uphold our values for every story published.