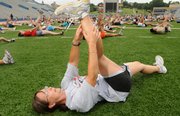 Most folks welcome summer's lazy days to kick back, relax, barbecue and enjoy good books.
Not Beverly Gardner and her husband, Don. Between them they volunteer an average of 55 hours weekly during summer months to organize and lead Red Dog's Dog Day - a free community exercise program that celebrates its 25th anniversary this month.
The couple, who typify the old adage "opposites attract," were married in 1995. They first met in the early '80s when their differences seemed insurmountable.
"Don was passionate about health and exercise, and I was a couch potato," Beverly says. "He loved going to parties, was very outgoing and talked to everyone. I was very shy and liked to spend quiet evenings at home. Even though he was 17 years older, I couldn't keep up with him. He played too hard for me, and I believed it wouldn't work."
"We dated a few times, and that was that," Don says.
"We dated for nearly three years before we parted," Beverly countered.
She remained single and continued her job in the Douglas County Information Technology Department, leading a generally quiet life.
Don found an outlet for his boundless energy. He volunteered as a trainer for Lawrence High School's athletic department (a role he continued for 27 years). He and longtime friend Jim O'Connell started a summer training program to help athletes remain fit and avoid injuries. At junior high school, coach Wilbur "Nanny" Duver had given Don the nickname "Red Dog" and it had stuck, and since then the program has been known as Red Dog's Dog Days.
"They had five to six players to start with," Beverly says, "but through the years, other high school sports teams joined in. Then their parents and their friends started arriving to do workouts."
The program has grown phenomenally since then. Today, more than 1,000 people a day can be seen participating in three separate sessions at Memorial Stadium.
The Dog Days require meticulous organization. Signed waivers, participants' details and attendance need to be recorded, and sponsorships acknowledged. Luckily, Beverly and Don rekindled their relationship and she now deals with the program's administrative details.
"After 10 years apart, he contacted me again and asked for a date. He'd settled down a bit," Beverly laughed. "But he was still pumped up about exercise."
When he proposed, she accepted immediately.
"I knew we could accept our differences this time around," she says. "He's pretty forgetful, so we married on April 1 to make it easier for him to remember our anniversary."
Adjustments were hard for her.
"I didn't like football but went to support Don," she says.
And she started attending Dog Days.
"I couldn't do a push-up or run up bleachers to save my life," she admits. "Don insisted the kids do them, so I had to try because the kids noticed I wasn't doing them."
She's now the fittest she's ever been in her life.
When she took over the organizational aspects of Dog Days in 1995, she wrote everything by hand. She worked on a mainframe computer at work but didn't own a personal computer until 1999.
"We've gone high-tech this year with a laptop," she says with a laugh.
It's still challenging to keep up with Don, even though he's not quite as vigorous due to major surgeries earlier this year. He's at the stadium at 5.30 a.m. four days a week, returns for further sessions at noon and 6 p.m. and pushes participants of all ages, sizes and shapes as hard as he can.
Usually, Beverly is there by his side. So why does she do it?
"I'm learning so much," she says. "I see people get healthier and fitter at Dog Days. Many of them, like me, couldn't do a push-up when they started, and now they're regular exercisers and feel good about themselves and their accomplishments."
She pauses, then adds: "I see how many people, especially the kids, love and appreciate Don, and it's a privilege to be a part of it all."
Copyright 2018 The Lawrence Journal-World. All rights reserved. This material may not be published, broadcast, rewritten or redistributed. We strive to uphold our values for every story published.