Red Dog answers your questions about Dog Days
June 6, 2008
This chat has already taken place. Read the transcript below.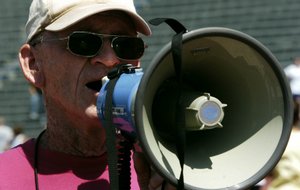 On countless mornings, afternoon and evenings this summer, drive by Kansas Universitys Memorial Stadium and you'll see hundreds of Lawrencians punishing themselves as they try to get in shape. It's all part of <a href="http://www2.ljworld.com/news/2008/may/27/ready_get_shape_dog_days_starting_soon/">Red Dog's Dog Days, a 25-year-old community exercise program</a>. Want to join them - or at least get an idea of what they're doing? Don "Red Dog" Gardner will be here to take your questions.

Moderator:
Hello everyone. This is Jonathan Kealing, online editor here at the News Center. We have Red Dog here to answer your questions about Dog Days. Here we go.
I'm attending Dog Days for the first time this year and I love it! I was wondering, are the Saturday runs open to walkers and varying abilities like the weekday workouts?
Don "Red Dog" Gardner:
yes,we just ask the walkers and slow people to stay to the right on the sidewalk.
Do most people stick with the program the whole summer, or is there a particular point when people start dropping out?
Don "Red Dog" Gardner:
We lose a few that quit and vacations/summer camps take a few away.
Is it too late to attend Red Dog Days even if I missed the first two sessions? I have never attended and did not want to be too far behind the others, if I should participate at this time.
Don "Red Dog" Gardner:
You can start any time but the longer you wait the harder it is to earn a t-shirt.
I am new to the area and am very interested in participating. What are the times and any other information that I might need? Is there a cost? Sounds fun!
Mindy Hutton
Don "Red Dog" Gardner:
Tue & Thur 6AM or 6PM during June. 6AM,Noon & 6PM July & Aug. Sat. morning runs 7AM & or745 AM from the Lied center parking lot.
How long days each workout take? Are there showers available for those headed to work after the morning session?
Don "Red Dog" Gardner:
30 to 45 min. You need to get to the stadium 10 to 20 minutes early so you can check in. No showers and limited toilet facilities.
I'd love to try Dog Days, but I'm 55 years old, overweight, and haven't excercised in years. Can I work at my own pace (slow!), or will I just be eating everyone else's dust?
Don "Red Dog" Gardner:
You will eat some peoples dust but you can go at your own pace and we have a RULE that no one laughs at anyone.
Hello,
I see that you have exercise sessions on Tuesdays and Thursdays. Is Saturday just for running?
If I come to the sessions, what items can I bring? MP3? Water bottle?
Thanks
Don "Red Dog" Gardner:
We do a little stretching and a few exercises and then run/walk. Bring your water and a dry shirt you might want to go to coffee with a group of Dog Day people. We also have popsicles on Sat.
For those leaving the couch for the first time, what are some ways to prevent injury, care for pulled muscles and fight fatigue while getting started with Red Dog Days?
Don "Red Dog" Gardner:
Use your head, stretch before and after, take a hot shower (hot tub if you have one) and think positive. Show up at the next session.
Is there an AED on site or any medical personnel?
Don "Red Dog" Gardner:
Yes we have an AED on site, also medical-fire & police people attending Dog Days.
Moderator:
We have just one more question, and it's more of a statement than a question.
aha:
I don't have a question ... I just wanted to let you know that I love this program. This is my first year participating, and it has been great so far. I am one of the "slower" people out there, but I hope to increase my strength and stamina by the end of the summer. Thanks!
Don "Red Dog" Gardner:
Your strength may get a little better & you will definitely increase your endurance, and maybe your speed. THANK YOU
Moderator:
That's all the questions we have. Thanks Don for joining us. I'm sure you'll be seeing a few extra people out at Dog Days.