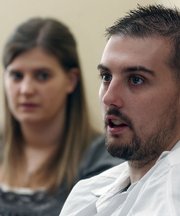 Pittsburg — Brandon Jones, 22, plans to graduate from Pittsburg State University in the spring, and he doesn't intend to let anything stop him.
Not even cancer.
The PSU senior, a construction management senior, has been battling Ewing's sarcoma, a rare form of cancer, since he was 19.
Now facing his third recurrence of the disease, Jones was recently accepted for a study involving a new type of antibody treatment. This will require him to travel to Omaha, Neb., every week.
"I had been scheduled for a study in Houston, Texas, but the one in Omaha opened up, and it's a lot closer to Pittsburg," Jones said. "I don't have classes on Fridays, so I'll go to Omaha, get my treatment and come back."
This is the second phase of the study, he said, and the new treatment looks promising.
"In the first phase, which had to do with establishing dosages, three of the patients involved had their cancer eliminated completely," he said. "This second study will look at side effects, and I don't know much about that."
His cancer showed up in December 2004, but Jones didn't realize what it was.
"I was doing construction work with my girlfriend's father, and I found a lump in my left groin area," he said. "I thought it was just a hernia, so I didn't do anything. Around June 2005 my leg started to go numb off and on, and my girlfriend made me go to a doctor. I had surgery to see what was going on, and they found the tumor."
Jones said three or four biopsies were done and indicated that the tumor was Ewing's sarcoma.
"But that's a form of bone cancer, and this tumor started in soft tissue," he said. "Finally I went to New York, they did another biopsy and knew for sure that it was Ewing's."
The cancer was attacked with seven months of chemotherapy and radiation.
"I was fine for a year, then I went in for a checkup and they found the cancer had come back," Jones said. "I had more chemotherapy to shrink the tumor, then went to New York in May 2007 for surgery, had the tumor removed and came back."
He had a summer internship with Neighbors Construction in Kansas City, then came back and got a house in Pittsburg with a roommate.
"Then I went in for a routine checkup, and they found spots in my lungs, and in the lymph nodes between the lungs," Jones said. "Once it gets in the lymph nodes, it can spread pretty quickly. I'd also been having unbearable back pains, and they found a spot on my 10th thoracic vertebra."
He admitted that last semester was really bad because of the back pain.
"It was a bear getting up in the morning," he said. "It's been really tough having treatment and going to college at the same time. I would have to leave school, go to Lamar, Mo., for an hour of treatment, then come back to classes."
During finals week he had a test involving concrete.
"I had to do physical labor, and afterward I got sick in a trash can," he said. "Somehow I still pulled Bs."
Jones said his professors, fellow students and friends have all been supportive of him. Plans are being made for a benefit dinner Feb. 23 at the Girard American Legion, and an account will be established at a Girard bank. A Girard High School graduate, he's eager to be a PSU graduate as well.
"I can't wait to get out of college and start my career," Jones said.
Copyright 2017 The Associated Press. All rights reserved. This material may not be published, broadcast, rewritten or redistributed. We strive to uphold our values for every story published.