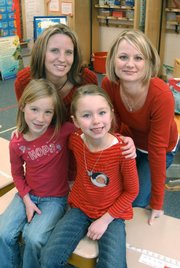 Hutchinson — It was a friendship born out of the most unhappy circumstances - the mother of a struggling infant and a woman who had gone through it all before.
The lives of Kerry Foster and Lachelle Spann are intersected like the chambers of the heart, where the ventricle relies on the atrium to sustain it with life-giving blood.
In this case, in the winter of 2007, it was Kerry who needed the support of Lachelle to make it through the darkest days of a mother's life.
On the last day of January, Kerry and Paul Foster's daughter Hazel was born with severe heart complications. The Fosters were thrust into a foreign world - discussions about congenital heart defects, talks about surgeries, worries about what was and wasn't covered by insurance.
Into the fray stepped Lachelle Spann and her husband, Shawn, who had gone through a similar situation eight years earlier with their daughter Nicole. Connected by mutual friends, the Spanns helped the Fosters navigate the legal, medical and emotional minefield.
"We had been in their situation," Lachelle said. "We knew how alone they felt."
The couples bonded, starting down the path from acquaintances to friends to just-like-family. They shared laughter and tears and questions, and then, two months after her birth, Hazel died.
Sharing in the grief, the two mothers decided there was more to be done. Heart defects had influenced their lives, but perhaps others could be spared.
This spring, Kerry and Lachelle are the co-chairs of the American Heart Association's Hutchinson Heart Walk, an annual event that raises money to help eradicate and cure diseases of the heart.
But the two friends also want to educate others about heart disease, the No. 1 killer of Americans, despite the fact that it usually gets much less publicity than diseases like breast cancer or AIDS.
"People hear 'Heart Association' and they think heart disease and older people," Kerry said. "They don't think that it has anything to do with children."
But heart defects are common in infants, occurring as often as once in every 100 births. Heart diseases are also a problem for young adults and those who are middle-aged, with some caused by genetic factors and others due to unhealthy eating or exercising habits.
Because of the variety of heart diseases and the unfamiliarity that many parents have with disease, Lachelle and Kerry said they also want to connect with other families to provide support for their questions and concerns.
"We want to reach out and connect with other families so they have someone to help them go through this," Kerry said.
Copyright 2018 The Associated Press. All rights reserved. This material may not be published, broadcast, rewritten or redistributed. We strive to uphold our values for every story published.