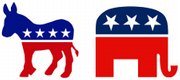 Full coverage of the 2008 Kansas Caucuses, including interactive map of polling places and a Q&A about the process.
Lt. Gov. Mark Parkinson has endorsed Democrat Barack Obama's bid for the presidency.
Parkinson says he believes the Illinois senator can rise above partisan politics to deal well with pressing issues, such as health care and global warming.
His announcement Friday came three days after Gov. Kathleen Sebelius endorsed Obama. But Parkinson said they arrived at their decisions separately.
Parkinson is a former state Republican Party chairman who switched parties to join Sebelius' ticket in 2006.
Kansas Democrats plan to have their presidential caucuses Tuesday at 50 locations. At stake will be 32 of the state's 41 delegates to the Democratic National Convention this summer in Denver.
Copyright 2018 The Lawrence Journal-World. All rights reserved. This material may not be published, broadcast, rewritten or redistributed. We strive to uphold our values for every story published.