Photo Gallery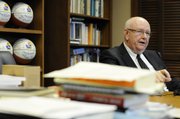 Photos from Chancellor Robert Hemenway's career at KU.
Photo Gallery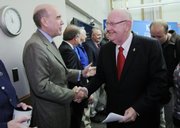 Hemenway announces his retirement
In a press conference Monday, KU Chancellor Robert Hemenway announced he would retire June 30, 2009.
11:56 p.m. As for the biggest remaining challenge, Hemenway says the state budget will take a majority of his time between now and June 30. And with that, the press conference has ended. Stay tuned to LJWorld.com all day, as we'll have more information about Hemenway's tenure as well as reaction from leaders across the state.
11:53 p.m. Hemenway says it will be up to the regents, whether an interim chancellor will be named after Hemenway resigns on June 30.
He also notes that he's had a heck of a good time in the job. Says he's thought "every day" about whether the university is being served well by his being here.
11:51 p.m. Hemenway says he was really struck by a phone call last night from one of his sons, who offered to be at the press conference.
He said his son wanted to know if he needed to show support for his dad.
He says it was really touching because his son felt that way, despite the fact that he was often on the road.
11:49 p.m. "The goal of my successor is how do you make a better university every day that you're here," Hemenway says.
He adds that he's trying to make a better university step-by-step.
11:47 p.m. "These are hard jobs. You work hard at them. They really are 24-7 jobs. -- Hemenway.
11:45 p.m. Hemenway says he came to this decision fairly recently. He said he's discussed it with the regents who are comfortable with the timetable. He notes that the next chancellor will need to be adept at dealing with difficult economic times.
11:43 a.m. Hemenway says he'll spend the first year after his retirement to work on a book about intercollegiate athletics and American values. He said he intends to teach in 2010.
Hemenway noted he's been a chancellor for 14 years, an unusually long time when the national average for a university leader is seven years. He notes the KU basketball and debate championships.
11:40 a.m. Lynn Bretz is introducing the Hemenway. Notes he's the 16th chancellor. Will read a statement then take a few questions. Bretz says to take advantage of the questions we have.
11:30 a.m. There's a throng of local media here this morning. Most of the Kansas City and Topeka TV stations, the Kansas City Star, the Topeka Capital-Journal, the University Daily Kansan, etc.
KU Provost Richard Lariviere, who could likely prove to be a candidate for the soon-to-be-open job himself, KU Endowment Association President Dale Seuferling, KU Student Body President Adam McGonigle, KU Chief Financial Officer Teresa Gordzica and other high-ranking university leaders are all here.
We're now awaiting the chancellor's arrival.
11:15 p.m. We're here on the campus of Kansas University for an 11:30 press conference with KU Chancellor Robert Hemenway, who announced earlier this morning that he would retire at the end of the academic year.
Go ahead and post whatever questions you have and we'll try and get them answered.
Our earlier story:
Kansas University Chancellor Robert E. Hemenway announced Monday morning that he will step down from the post effective June 30, 2009.
"As of June I will have completed 14 years as chancellor — an unusually long tenure in these times," Hemenway said in a university news release. "I am grateful to the members of the Kansas Board of Regents for this opportunity and their continuous support. Being KU chancellor has been a great honor and a demanding job."
Hemenway, who joined the university in 1995, said there is no "good" time to step down. But in light of the university's many recent achievements, "I will return to the classroom knowing the University of Kansas is in excellent shape and ready for the challenges that face our nation's leading public universities," he said in a statement.
Donna Shank, chair of the Kansas Board of Regents, said, "The people of Kansas and KU alumni worldwide have benefited tremendously from Bob Hemenway's service. The accomplishments of the university during his firm and progressive leadership speak for themselves. KU has grown in size, strength and reputation."
Shank said the regents would appoint a committee to begin a national search for Hemenway's successor.
In a personal message sent earlier to faculty, staff and students, Hemenway said he will be on sabbatical leave next academic year to work on a book about intercollegiate athletics and American values, and then return to teaching and scholarly research at KU.
Del Shankel, who had served as a self-described "utility infielder" as a chancellor between former chancellor Gene Budig and Hemenway, said not to expect too much turmoil in the coming months.
"I think we should expect that Chancellor Hemenway will continue to do a very effective job for the time he has remaining in office," Shankel said. "I think you will see the regents put together a very effective search process."
He said the job should attract some quality candidates.
"This is clearly one of the top state universities in the country," he said. "There should be a lot of interest from some very good people."
He praised Hemenway, 67, for the work at KU.
"Except for the current financial problems of the state, the university is in good condition," Shankel said.
He praised Hemenway's ability to shepherd through some difficult tuition increases without major impacts on attendance, his hiring of Athletics Director Lew Perkins and his ability to create the KU Hospital Authority, separating it from the state and into an independent entity.
Shankel said he'd be happy to help the university's transition in any way he can — with the exception of taking the helm again, which he had done twice before in times of change, in 1980 and in 1994.
"I don't have enough energy to do that at age 81," he said.
Hemenway was a pleasure to work with, said Howard Mossberg, a former dean of pharmacy who served in several other executive roles at the KU, including as vice chancellor for research and graduate studies.
"He's had a pretty good tenure here," he said. "I have nothing but good wishes for him."
Mossberg recalled that one of Hemenway's early priorities was to spin off the KU Center for Research into its own independent nonprofit organization.
"When he landed on the campus, in April of that year, he and I visited and he said that's exactly what he wanted to do."
He said other chancellors had not been able to accomplish the measure, which allowed more flexibility in research funding at KU, taking some power away from the chancellor's office.
"He gladly gave up some flexibility," Mossberg said. "And I applaud him for that."
Mossberg, who is heading the Self Graduate Fellowship program, said that after working with the chancellor in several roles, he always found him to be a pleasant and agreeable person.
"I'm glad for Bob Hemenway," he said. "I think he deserves some peace and quiet."
Copyright 2018 The Lawrence Journal-World. All rights reserved. This material may not be published, broadcast, rewritten or redistributed. We strive to uphold our values for every story published.