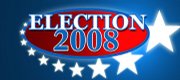 In-depth coverage of the candidates and the issues, all leading up to the Aug. 5 primary and the Nov. 4 general election.
-->
Denver — Now that the Olympics have ended, let the games begin.
Kansas Democrats were among the thousands of party delegates, journalists and activists who gathered Sunday on the eve of what will be a historic Democratic National Convention.
And they expressed confidence in their ticket, topped by U.S. Sen. Barack Obama, D-Ill., who is about to become the first black man nominated as a presidential candidate of a major party.
In addition, they praised the newest addition, U.S. Sen. Joe Biden, D-Del., whom Obama picked as his vice presidential running mate.
"I think he's a great pick," said state Sen. Anthony Hensley, D-Topeka, whose district includes part of Douglas County. "(Biden) is definitely a blue-collar type Democrat."
There has been some rumbling that delegates committed to U.S. Sen. Hillary Clinton, D-N.Y., a former presidential contender, are upset that Obama chose Biden.
But state Sen. Marci Francisco, D-Lawrence, said she didn't expect any negative fallout. Francisco attended a brunch for women delegates on Sunday. "The comments were really ones of unity," she said.
Lt. Gov. Mark Parkinson said he thought Biden's experience in foreign affairs was a positive. "I think Obama-Biden is a great ticket," he said.
This morning, the Kansas delegation will be hearing from Montana Gov. Brian Schweitzer, while Kansas Gov. Kathleen Sebelius is scheduled to speak to the Texas and Illinois delegations. The prime-time speaker to the full convention tonight is Michelle Obama. Sen. Claire McCaskill, D-Mo., also will speak.
Sebelius and nine other governors will speak to the full convention on Tuesday.
The convention runs through Thursday, when Barack Obama will give his acceptance speech.
Republicans will start their convention Sept. 1 in Minneapolis to nominate U.S. Sen. John McCain, R-Ariz.
Copyright 2018 The Lawrence Journal-World. All rights reserved. This material may not be published, broadcast, rewritten or redistributed. We strive to uphold our values for every story published.