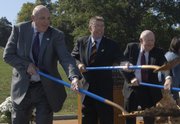 Hutchinson — The bankruptcy of an Oklahoma-based oil marketer has the Kansas oil industry looking at reducing production as it faces losing tens of millions of dollars in revenue.
Tulsa-based SemGroup LP filed for Chapter 11 bankruptcy protection July 22 after reportedly losing at least $2.4 billion in oil futures trading, and racking up $2.5 billion in debt.
Dave Dayvault, president of the Kansas Independent Oil and Gas Producers Association, estimated the move has put $140 million in payments for crude oil purchased in the last two months from Kansas oil fields in limbo, potentially delaying or negating payments to producers, landowners and companies that serve the industry.
"For Kansas producers, this was a huge event," Dayvault said of the bankruptcy. "There will be a slowdown in several segments of the industry because people need to recover the cash before they embark on new projects."
For example, L.D. Davis of LD Drilling in Great Bend said his company was owed "in the neighborhood of $6 million" and wasn't optimistic of its chances in bankruptcy court.
"I don't think we'll recover anything out of it," Davis said. "It's too far gone. We're just going to have to go on and not look back."
Davis and Robert Dougherty, another oilman who estimates he's lost $600,000 in well interests, said they expected smaller producers who rely on a constant flow of cash will not be able to continue drilling.
SemGroup, formed eight years ago by former Kansas University basketball star Tom Kivisto, controlled about 20 percent of Kansas' oil purchasing market. It grew quickly, absorbing 50 other companies, including an asphalt plant in Halstead.
In its bankruptcy filing, the company said it ran afoul with oil futures transactions, apparently expecting the price of oil to go down. Instead, the cost of oil contracts rose, forcing SemGroup to use up its cash reserves to meet margin calls.
The U.S. Attorney's Office in Tulsa and the Securities and Exchange Commission are conducting separate investigations of the company and Kivisto has been removed as CEO.
Some companies are already getting in line in bankruptcy court. Wichita-based Vess Oil Corp. has filed suit, seeking the return of $2.89 million held by SemGroup distribution agent Eaglwing for oil and gas sales from a Texas field.
Vess is arguing that the money is not property of SemGroup and shouldn't be tied up in the bankruptcy filing.
Besides the potential loss of oil they already sold to SemGroup, some producers are now faced with finding new markets, which may not be easy, said Ed Cross, executive vice president of the oil and gas producers association.
"Many of them have tanks that are full and until they find a new purchaser, will have to shut down those wells," Cross said. "It could be a couple of months or longer. Most small producers in the state invest 100 percent or more in drilling new wells or working on old wells. Some of that activity will slow down or stop, some drilling contracts will stop. Servicing companies will see cancellations as drilling companies try to see what their cash flow will be."
SemGroup has said it will try to continue its oil marketing operations while reorganizing and Dayvault said the company has said it will sell some subsidiaries to generate assets.
But while the industry is hoping for SemGroup's quick turnaround, Dayvault said some producers won't remain with the company because of the uncertainty of payments, drying up the revenue SemGroup needs to recover.
Copyright 2018 The Associated Press. All rights reserved. This material may not be published, broadcast, rewritten or redistributed. We strive to uphold our values for every story published.