Photo Gallery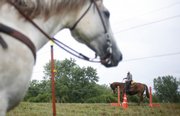 Ultimate Horseman's Challenge
Ultimate Horsemen's Challenge Association
Fox Eye Ranch — Josh Rushing had just guided his 13-year-old molly, or female mule, Shadow, through a course Saturday afternoon at the Fox Eye Ranch in Leavenworth County, 6 miles east of Lawrence.
"The training never stops. She learns with me," said Rushing, 25, of Hume, Mo., who shoes horses and rides them when he can.
Shadow had waited patiently for her rider's instructions during the Ultimate Horseman's Challenge Association competition, where 63 riders of all ages participated in four divisions.
Rushing and the molly have worked together since he was 12 years old. Shadow's patience showed.
That's a key trait in this competition, even though it is timed, because the judges are also paying attention to how well-trained the horse is, said Scott Simms, a Missouri rancher and president of the association, which has members in Kansas, Missouri and Iowa.
Riders had to open a chain gate for the horses and then guide them across a puddle and over three logs. Then the horses could run a little bit - around barrels and through some brush.
The course was artificial, but the key to preparation is to make the horse comfortable with riders. The challenges in the manmade course symbolize real things horses would face on a working ranch, where cattle have to be moved.
"There's nothing you can make up at home that you don't see out in everyday riding," Rushing said.
Simms, of Butler, Mo., said horses are still his family's choice for ranch work because they can intimidate other animals and also get riders over tough spots, such as streams.
He and others in the area started the association this year. Saturday was their fifth of seven competitions planned for the year. They've had anywhere from 55 to 85 riders at the summer competitions.
"We've had almost overwhelming response to the events," Simms said.
Copyright 2018 The Lawrence Journal-World. All rights reserved. This material may not be published, broadcast, rewritten or redistributed. We strive to uphold our values for every story published.