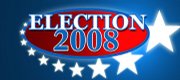 In-depth coverage of the candidates and the issues, all leading up to the Aug. 5 primary and the Nov. 4 general election.
U.S. Sen. Pat Roberts, R-Kan., and Democrat Jim Slattery are in full campaign mode, spending big bucks on television ads, and running statewide in preparation for the November general election.
But Slattery first faces Lee Jones on Tuesday in the Democratic Party primary.
Jones, a railroad engineer from Overland Park, concedes he has been overlooked, but said he is the best candidate to represent average, everyday Kansans.
One of his main issues is that recent trade policies, such as NAFTA, have hurt U.S. workers. If elected, Jones said, "The first thing I would do would be to re-work all our trade policies and make them fair to the American worker and their families."
Slattery was a congressman who represented the 2nd Congressional District for 12 years. After a failed bid for governor in 1994, he worked in Washington, D.C., as a lobbyist and lawyer.
Slattery said he decided to enter the Senate race because the federal government - from the war in Iraq to the economy - has gotten off track.
"I have been observing the federal government from the outside - watching the breathtaking incompetence and indifference in our political leadership," he said.
Both Jones and Slattery have been highly critical of Roberts, especially Roberts' allegiance to President Bush on the war in Iraq and fiscal policies.
Copyright 2018 The Lawrence Journal-World. All rights reserved. This material may not be published, broadcast, rewritten or redistributed. We strive to uphold our values for every story published.