Photo Gallery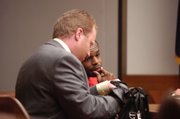 Carlos Jerome Jackson
A judge on Friday sentenced a Topeka man to serve 15 years in prison for shooting three people on Feb. 10 outside a former Lawrence nightclub.
"In spite of the plea agreement in this case, given the actions, your convictions and the injuries to these individuals, I am ordering that the sentences run consecutive to one another," said Douglas County District Judge Paula Martin.
Carlos Jerome Jackson, 26, had reached a plea agreement in March with prosecutors for the incident outside Last Call, 729 N.H. The bar has since closed.
Jackson pleaded guilty to three counts of reckless aggravated battery and had hoped to serve 10 years in prison with all three sentences running concurrently. But Martin instead ordered him also to serve 64 months in prison after the first 10 years.
Two Last Call bouncers, Brooks Weber and Bryan Canady, and a 15-year-old boy who had been in the club were shot by Jackson. Jackson, who earlier had taken marijuana and ecstasy at another nightclub, had said he was angry because he had just been in a fight. He had said he didn't intend to shoot anyone.
"I accept full responsibility for all my actions, and I apologize to the victims for what I have done," Jackson said. "I'm ready to pretty much get this put behind me and move on with my life."
But he also voiced disappointment when he left the courtroom because his attorney Jason Billam had asked Martin to follow the plea agreement, essentially giving him 10 years in prison. Martin refused.
As sheriff's officers escorted Jackson away, he said, "No justice."
Jackson will also pay restitution for the victims' injuries. A total has not yet been figured.
Two women, Sonda Washington, 33, and Sherise Spears, 20, both of Topeka, are charged with assisting Jackson after the shooting. They will next appear in court April 24.
Copyright 2017 The Lawrence Journal-World. All rights reserved. This material may not be published, broadcast, rewritten or redistributed. We strive to uphold our values for every story published.