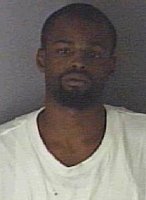 Lawrence Police have identified a 26-year-old Topeka man as the gunman in the shooting of three people early Sunday morning outside Last Call private club in downtown.
Capt. Dan Affalter said police are seeking the public's help in finding Carlos Jerome Jackson, who has been charged in a felony arrest warrant with three counts of aggravated battery.
Affalter said Jackson is described as a black male, 5-foot-11, weighing 160 pounds, with black hair and brown eyes.
Affalter asked anyone with information about Jackson to call Lawrence Police, (785) 832-7509. Affalter also encouraged anyone who observes Jackson outside the city of Lawrence to immediately contact their local law enforcement agency. People with information also may contact CrimeStoppers at (785) 843-TIPS.
Jackson is accused of shooting three people - two Last Call employees and a 15-year-old patron - about 3 a.m. Sunday outside the club, 729 N.H.
On Wednesday, felony charges were filed against two Topeka women for aiding Jackson. Lawrence police said both women were in the car with the gunman. They were arrested Tuesday and taken to the Douglas County Jail.
Sherise Spears, 20, was charged with aiding and abetting an aggravated battery. During her first appearance in Douglas County, District Judge Pro Tem Peggy Kittel set Spears' bond at $30,000.
A charge of aiding a felon was filed against Sonda M. Washington, 30. Kittel set her bond at $15,000.
Both women are to appear in court again today so their preliminary hearings can be scheduled.
When he was 17, Jackson, pleaded guilty to felony murder and aggravated robbery in connection with the 1998 shooting death of a Topeka man. He and another Topeka youth were charged in connection with the death of Dennis R. Campbell, 24, who was shot Oct. 2, 1998, while he drove just southwest of downtown Topeka. Topeka police said Campbell was shot after a deal involving a small amount of marijuana turned into an attempted robbery.
More details as they develop.
Copyright 2018 The Lawrence Journal-World. All rights reserved. This material may not be published, broadcast, rewritten or redistributed. We strive to uphold our values for every story published.