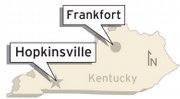 A 26-year-old Topeka man suspected of shooting three people outside a Lawrence nightclub has waived his right to fight extradition from Kentucky.
At a hearing Monday afternoon in the Christian County District Court in Hopkinsville, Carlos Jerome Jackson also pleaded guilty to a misdemeanor count of giving authorities there a false name when he was arrested, said Maureen Leamy, assistant Christian County attorney.
A judge gave Jackson credit for time served in Kentucky on that misdemeanor, which could be up to 90 days, so that Douglas County authorities could begin the process to bring him here to face charges, Leamy said.
Authorities arrested Jackson on Feb. 15 at the Kentucky home of relatives on a felony warrant in which Douglas County prosecutors accuse him of three counts of aggravated battery. Those charges stem from the Feb. 10 shooting of two Last Call employees and a 15-year-old boy outside the private club in Lawrence, which owner Dennis Steffes has since closed.
Lt. Kari Wempe, a Douglas County Sheriff's spokeswoman, said she expected Jackson to return to Kansas within the next two weeks.
Copyright 2018 The Lawrence Journal-World. All rights reserved. This material may not be published, broadcast, rewritten or redistributed. We strive to uphold our values for every story published.