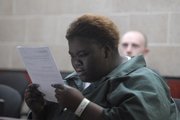 City proposals
Read the proposals for a new entertainment licensing system that city commissioners previously rejected in March:
If city commissioners want to pass new licensing requirements for Lawrence nightclubs following last Sunday's shooting outside Last Call, they'll have to do so over concerns from the city's bar industry.
"Before we consider new legislation that would affect all the honest folks who work in the Lawrence hospitality industry, we think the community ought to use all the tools it already has available to it," said Phil Bradley, chief executive of the Kansas Licensed Beverage Assn., the largest trade group representing bars and nightclubs in Lawrence.
Members of the bar and nightclub industry have long opposed proposals from city staff to create a new system that would require nightclubs, dance clubs, music venues and other similar establishments to receive a special city permit to operate. But it was unclear whether bar and nightclub owners would continue to express concern following a shooting about 3 a.m. Sunday outside Last Call that left two employees of the club and a 15-year old patron wounded.
On Wednesday, felony charges were filed against two Topeka women for aiding the Last Call gunman, who was still at large Wednesday afternoon. Lawrence police said both women were in the car with the gunman. They were arrested Tuesday and taken to the Douglas County Jail.
Sherise Spears, 20, was charged with aiding and abetting an aggravated battery. During her first appearance in Douglas County, District Judge Pro Tem Peggy Kittel set Spears' bond at $30,000.
A charge of aiding a felon was filed against Sonda M. Washington, 30. Kittel set her bond at $15,000.
Both women are to appear in court again today so their preliminary hearings can be scheduled.
Fast-tracking the debate
City leaders confirmed Wednesday that they plan to start debating the merits of a new bar licensing system at Tuesday's City Commission meeting.
"I want downtown safety issues to take precedence over anything we have on the agenda next week," Mayor Sue Hack said.
City Manager David Corliss said the commission will be briefed on at least two proposals. One, an "entertainment venue" license, would apply to businesses that, for example, charge a cover charge, host live music or operate dance floors. Currently, no license is needed - except for a state liquor license, if the business serves alcohol. City staff members have expressed concern that the state licensing system gives the city very little ability to influence the behavior of bar and nightclub owners.
A second proposal would change the city's zoning laws to require bars either citywide or in areas designated by the commission to receive a special-use permit from the city. Commissioners previously had declined to adopt either proposal.
But that was prior to the latest incident at Last Call, 729 N.H.
"In the past, we have recommended that the commission adopt both of these measures," Corliss said. "But one of the things the commission needs to decide is whether its focus is on the one current establishment, or whether there's concern this issue will replicate itself somewhere else in the community in the future."
Bradley - whose organization condemned "the violence of the individuals" in the early-morning shooting - wants the city to work with Douglas County District Attorney Charles Branson to file a public nuisance charge against Last Call and its owner, Dennis Steffes.
He said he's disappointed the city is considering far-reaching regulations that potentially would put the future operations of bar and nightclubs into the hands of a political body.
"Until we've tried all the tools, I don't know how we can say they won't work," Bradley said.
Nuisance laws
Some communities have used the state nuisance law to shut down problem drinking establishments. In the late 1980s and early 1990s, Wyandotte County used the public nuisance law as a tool to shut down four Kansas City, Kan., strip clubs that had a history of trouble.
Undercover police officers went into the clubs repeatedly to record violations they witnessed, former district attorney Nick Tomasic said. An FBI agent wore a hidden camera into the establishments, Tomasic said.
Among violations were illegal sex and drug activities, Tomasic said.
Police also got a search warrant and obtained business records. They found tax violations. They found liquor law violations. State liquor licenses were withdrawn.
"We built up a lot of violations on them," Tomasic, now retired, said. "We were able to show the patterns of their actions and that they were a nuisance to the public, that there was a history of calls for police assistance."
The city has conducted some undercover investigations inside Last Call, police said during a recent hearing before the state's Alcohol Beverage Control division.
Branson has said he has requested all reports on the operations of the Last Call and is reviewing possible charges that could be filed against the club. He was unable to provide an update on the status of that review Wednesday.
Corliss said a public nuisance charge may be appropriate in the Last Call matter, but he predicted it likely would produce a long legal battle. He also sought to assure members of the city's hospitality industry they would be treated fairly under any new licensing system.
"We understand that a fine balance must be struck," Corliss said. "But almost every law on our books is written not because of the conduct of the majority but the conduct of a few people."
Copyright 2018 The Lawrence Journal-World. All rights reserved. This material may not be published, broadcast, rewritten or redistributed. We strive to uphold our values for every story published.