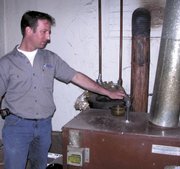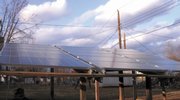 Farmington, Mo. — Jeffrey Ward has taken total control of his energy bill with the installation of three solar panels in the backyard. He has achieved not just zero electric use, but he generates more power than he needs and feeds it back to the city, which purchases it from him.
Ward started his crusade against rising energy costs with the usual steps. He put more insulation in his attic and walls. He insulated his pipes and water heater.
He switched all his light bulbs to compact fluorescent bulbs and started drying his clothes on a line instead of the dryer. He has wood heat, which keeps the air dry, so the extra humidity from drying his clothes inside during winter doesn't cause mildew.
"It helps make it feel warmer if the humidity is right," he explained. "And it saves about five kilowatts per load."
He also put appliances like his television set on a surge bar so they could be turned off when not in use.
'Energy vamps'
He explained such devices are "energy vamps." They draw power, even when off, to retain programmed settings and time displays that aren't truly essential.
Turning off the power to those optional features can save as much as 5 percent on power usage, according to many energy experts.
He's re-engineered his water pipes, running them through his wood stove to preheat water in winter before filling the water heater.
"The water is actually hotter going into the heater than it is going out," he said.
He also placed a Plexiglas tank painted black on the south side of his house to preheat water in summer.
Finally, it was time to try something bigger. He had read about installing solar panels in many of the energy magazines he subscribes to. That, he decided, should be the next project.
Since 2003, Missouri laws allow homeowners to connect power generating devices into the electric system and get credit for the power. This requires a permit from the city and a net-metering contract.
The solar panels Ward purchased cost $11,000 - but the actual cost was less than that. He got tax credits from the state and federal government of about $2,000 for his purchase.
At a rate of zero energy use, it won't take long to recoup the remaining cost. "If you save $100 a month, you'll be done paying for the panels in seven years," he said.
He did have to connect the panels into the electrical grid in a particular way, which he said was not difficult. He followed the instructions he had read in resources about the subject such as Home Power Magazine, Mother Earth News and the National Electric Code, Section 690.
'Learning curve'
Since no one else had ever done this in Farmington before, some kinks appeared.
At first the city was charging him for the power he was generating. Ward was not pleased when his electric bill increased because the city was counting the power he generated against him.
City Administrator Greg Beavers explained Ward's power usage was exceptionally low for an occupied home so they had installed a digital meter at his residence instead of the older type that has a dial. The digital meter wasn't able to credit Ward for the power he was generating. In fact, it counted it against him.
"This is the first time anyone has done something like that here," Beaver said. "There was a little bit of a learning curve."
City workers put the old-style meter back and used a meter on Ward's solar panels to credit him for the power he had been generating, Beavers said. Now they are paying him at cost for any excess power he generates.
Ward uses about six kilowatts a day and had been making between nine and 13 kilowatts with his solar panels in March. The number will go up as days get longer and down as they get shorter.
That doesn't quite cover the flat $11.60 customer charge for electric service - but it makes Ward feel pretty good that his bill reads zero on the line for electric usage.
In some states, he would get paid market value for any extra power he feeds into the system - but in Missouri the most he can get is wholesale cost.
Statewide efforts
He hopes that will one day change. Last year a bill called the Easy Connect Act was sponsored in the Legislature and 52 lawmakers backed the bill.
Information about the bill is available at morenergy.com.
"A monkey could do this," he said, when it was suggested his system might be above the ability of the average person. "We all have to take some responsibility and do our part."
He is satisfied with what he has done so far, but Ward is far from finished with energy improvements.
He has been looking at solar-powered refrigerators and windmills. He is interested in the latter at this point.
"Cloudy days are likely to be windy ones," he pointed out. "That might even things out and keep my power generation going."
Copyright 2018 The Associated Press. All rights reserved. This material may not be published, broadcast, rewritten or redistributed. We strive to uphold our values for every story published.