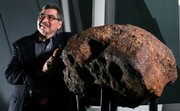 Kansas City, Mo. — A 1,410-pound meteorite, wrenched two years ago from a wheat field near Greensburg is going up for auction next month, with an estimated price that's out of this world.
The so-called Brenham meteorite, prized as the largest of its kind, is one of two centerpiece attractions at a meteorite sale scheduled for Oct. 28 at the Bonhams auction house in New York.
And until then visitors can see it at Union Station in Kansas City, where it's been on display outside the planetarium there since June.
A few characteristics distinguish the Greensburg space rock from all other known meteorites.
For one, it's the largest intact piece discovered from a presumably spectacular meteorite fall perhaps 10,000 years ago, which strewed rocks throughout the landscape around Greensburg and nearby Brenham.
Unlike most meteorites, which tumble through the earth's atmosphere, this one is the largest "oriented" meteorite, meaning it had a conical shape which caused it to descend like a rocket.
Even more significant, it's filled with natural, extraterrestrial gemstones.
Along with other stone elements and iron, the huge boulder is known as a pallasite because it contains perhaps a million carats of peridot and its rougher version, olivine, said Steve Arnold, the meteorite hunter who found it.
"If you see pictures of pallasites," Arnold said Wednesday from his home in Arkansas, "often they're cut thin and the peridot and olivine are translucent, which gives it a stained-glass window look. It's very gorgeous and pretty cool to think that these are gemstones from outer space."
The auction house description in its sale catalog is befitting a star, calling it "dappled in a mango-accented blush and gray surface that thinly veils the largest single aggregate of extraterrestrial semiprecious gems."
Bonhams set an estimated value of $630,000 to $700,000.
"There's a chance a museum would be interested," Arnold said, "although the odds are probably better that an individual or corporation would buy it and perhaps donate it to a museum."
Arnold's Brenham meteorite is among about four dozen items in the sale, including meteorite slices and storied objects, such as a "chunk of the only meteorite documented to have killed an animal - a cow in Venezuela."
But it's sharing headlines with a more controversial item: a 30-pound section removed 10 years ago from the renowned Willamette meteorite, an Oregon find which has been owned by the Museum of Natural History in New York for 99 years. The Clackamas tribe challenged the museum's ownership in 1999, and tried to get it back. The Clackamas contend it's a sacred object in their lore. A settlement agreement kept the 15.5-ton meteorite in New York.
Yet, after learning of the forthcoming sale, tribal leaders have spoken up.
"We are deeply saddened that any individual or organization would be so insensitive to Native American spirituality and culture as to traffic in the sale of a sacred and historic artifact," Siobahn Taylor, of the Confederated Tribes of Grand Ronde, told the Associated Press last week.
Although pieces of Brenham meteorites have been traced to Hopewell Indian mounds in Ohio, Arnold said, there are no similar claims on his.
Arnold has been hunting and brokering meteorites for 15 years. The Greensburg find was his big breakthrough. He'd lined up a Texas collector and attorney, who sponsored the hunt, which was sparked by a hunch that new metal-detecting technology would reveal more specimens in the Brenham field.
Also sharing in any sale would be the landowner where Arnold found the big rock. The arrangement is like an oil and gas lease, he said, with one exception: "We give our landowners a lot more royalty than the oil and gas people do."
Arnold has said he believed the Brenham meteorite field, first discovered by a 19th century homesteader, to be virtually exhausted. Yet he said he would return to Greensburg for another hunt.
Copyright 2018 The Associated Press. All rights reserved. This material may not be published, broadcast, rewritten or redistributed. We strive to uphold our values for every story published.